(Marius Presterud), Oslo Apiary & Aviary
Opptredener, økovensjoner, rekvisitter og skulpturell dokumentasjon
Oslo Apiary & Aviary er en mørk-økologisk tjenesteleverandør og kunstpraksis, drevet av Marius Presterud med hjelp av en håndfull venner og affilierte kunstnere.
Gjennomgående temaer i vårt arbeid er inspeksjonen av skillet natur-kultur og privat-offentlig, kunstneren som entrepenør og typen kunst denne rollen oppmuntrer, samt en interesse for menneskets bortgang.
Vi har vårt arbeidsrom i et forlatt ventilasjonsrom på taket av Kunstnernes Hus og foretrekker sesonglange samarbeid med kulturinstitusjoner. Av tidligere samarbeidspartnere kan nevnes Henie Onstad Kunstsenter, Galleri F15, ROM for Kunst og Arkitektur og Losæter.
Medlem av UKS, NBK, BOA, PAO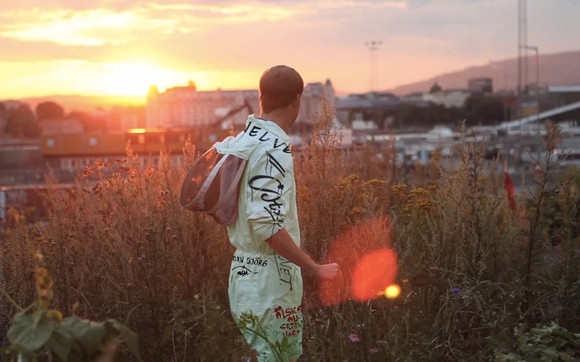 IF THESE WALLS COULD WALK, WHERE WOULD THEY STRAY, 21 Aug, 2015, Losæter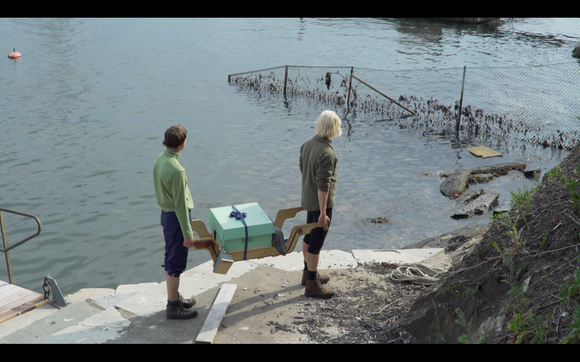 TRACING THE FJORD, 7-9 Juni, 2016, Losæter-Henie Onstad Kunstsenter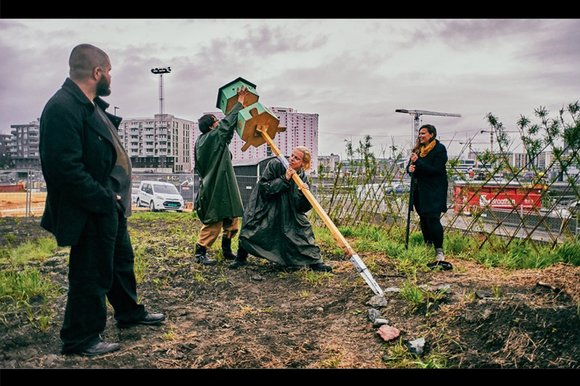 OSLO APIARY w. OSLO APIARY, 21 Mai, 2016, Losæter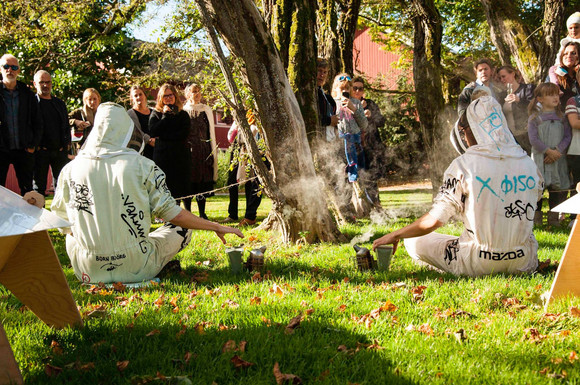 SMOKER SEANSE, 1 Okt, 2016 , Galleri F15, Moss
Planlagte prosjekter og utstillinger
Upcoming
PEARL BORN, Exgirlfriend, Berlin, June 1th, 2018.
NORTHERN BUMBLINGS: MULTI-SPECIES LIVING IN THE COLD (book), a collab with Erik Sjödin (SE) and Thomas Pausz (IL), spring 2018.
CV
SHOWINGS
PEARL DIVING, Part 1, 7 Oct, 2017, Gallery Field of Dreams, Oslo
TRACING THE FJORD (film), Sept-October, 2017, Retten til Byen, Losæter, Oslo
NORTHERN BUMBLING, and panel debate and presentation of work in progress, 4 Aug, 2017, Losæter Bakehouse, Oslo
Ditto, 29 July, 2017, Slakthusatelierna, Stockholm
Ditto, June 27, 2017, The Nordic House, Reykjavik
DEFENSE COURSE IN BAKING (sculpture workshop), 14 June 2017, Losæter (NO), for Vandaler Forenings (NO) Human Scarecrows 2.0
LEVERAGE FOR LEAFAGE (textile sculptures), 13 June 2017, Losæter (NO), for Futurefarmers Bread Kneads Hands 2 (SF)
SUN DECK (performance), upcoming, 12 June 2017, Losæter (NO), for for Futurefarmers Bread Kneads Hands 2 (SF)
COMMON PROSPECTS (exhibition, performance), 11 February, 2017, Losæter (NO), for Futurefarmers Full Moon Gathering (SF)
SMOKER SEANSE, 1 Okt 2016 , Galleri F15, Moss, for Too Bee or Not to Be
TOP-BAR HIVES (SLEEP #1-2), July 2016-April 2017, Galleri F15, Moss, for Too Bee or Not to Be
OSLO AVIARY with OSLO APIARY, May 2016, Losæter, Oslo, for Futurefarmers (SF)
TRACING THE FJORD (performance), 7-9 Juni 2016, Henie Onstad Kunstsenter, a collab. w. Future Farmers (SF)
THE SHEPARD, Crop Circle performance for Futurefarmers (SF) "UP INTO THE SKY DOWN (IN)TO THE EARTH", 2016, Losæter
PEARL DIVING, Part 1, 10 May, 2016, Journal of Somaestethics, Vol. 2, Nos. 1 and 2
EAR TO THE WAX, 2016, 16-17 april 2016, Kunstnernes Hus, Oslo Open
GUTTERAL TRANSPLANTATION, 11 Sept 2015, Wergelandsveien 17, Oslo Kulturnatt
IF THESE WALLS COULD WALK, WHERE WOULD THEY STRAY, 21 Aug 2015, Losæter
NEIGHBORHOOD BATCH, 14 Aug 2015, Mølleren Sylvia
SANKE GULL, 13 Aug 2015, a collab. w. Andreas Ervik for (SANKE)
TRANSFORMER#5, June-Sept 2015, a collab. w. Vigdis Storsveen & ROM for kunst og Arkitektur
FOYER WORK, 08 Dec 2014, One Night Only Gallery, a collab. w. Victoria Günzler
DITCHFLOWER, 14 Nov 2013, Fuglen
OSLO APIARY Indiegogo crowdfunding promo, 10 Sept 2014, a collab. w. Anna Leijonhielm & Michael Behrens
OSLO APIARY Launchparty, 14 Nov 2013, a collab. w. Cappellens Forslag
HOW TO D.I.Y. with Bourgeois Stallion, 13 May, 2011, Malmøgata Fine-Art Project Space, Oslo
SELECTED TALKS AND LECTURES
PEARL DIVING: SOMAESTHETICS AND ART, 14-16 July 2017, Xplore Festival, Berlin
HUMAN AS NOTE, 15 February, 2017, KHiO, Oslo.
TRACING THE FJORD (presentation), 21 January, 2017, Deichmanske Library, Oslo. By invitation of Concerned Artists Norway (CAN)
WALKING AND NATION BUILDING (TRACING THE FJORD presentation), 25 juni 2016, Oslo Flaneur Festival
DRIFT AS METHOD WITHIN ARTS AND ACADEMIA (TRACING THE FJORD presentation), 24 juni 2016, Oslo Flaneur Festival
IMMERSED OBSERVATION AS METHOD WITHIN ART AND ACADEMIA, 13 oct 2015, for SosGeo4301, MA level course in Human geography and sociology
TALK w. OSLO APIARY, 28 Juni 2014, Kunstnernes Hus


WRITINGS
(Article) Resistance is Plastic, for NORTHERN BUMBLINGS: MULTI-SPECIES LIVING IN THE COLD (In pres, 2018)
(Articles) Pearl Diving For the Fabled Artist, Journal of Somaestethics, Vol. 2, Nos. 1 and 2, 2016
(Texts) Dapper Dan Magazine (#8, 2013). flatbreadsociety.com (2013), Pengevirke (#3, 2013)
(Poetry) Splittet Kjerne (#5f, 2016), Belleville Park Pages (#5&10, 2013), The Bastille (#2&3, 2013&2014), RythmPatternTexture (#1, 2013), Milkandmoney Magazine (#7-8, 2010), 
(Lyrics) EPb (Bourgeois Stallion, 2011), EP (ibid, 2010), The Beauty single (ibid, 2010)
RESIDENCIES
Residency at Paris Lit Up, Paris (Feb 2016)
Poet in Residence, FlatbreadSociety, Oslo (2015-d.d.)
GRANTS AND AWARDS
Office of Contemporary Art 2017 – Travel grant
Nordic Culture Fund 2017 – Nordic collaboration grant
Kulturrådet 2016 Project grant – Visuell kunst
Kulturrådet 2015 Publishing grant – Visuell kunst
AHO – 1 price and monetary reward for student work designing equipment for Jølstad funeral parlor
Behancé honorable mention for label design 2014

CURATIONS
FULL MOON GATHERING (co-curated with Futurefarmers), Losæter, Oslo (2017-ongoing)
D.I.T. WITH OSLO APIARY, 11 Sept 2015, Wergelandsveien 17, a collab. w. Oslo Kulturnatt

MAGIC POTIONS (exhibition) Andreas Ervik, Gjestebrygge Rødtangen Bad (2011)
AFFILIATIONS
Billedkunstnerne Oslo og Akershus (BOA)

Norske Billedkunstnere (NBK)

Unge Kunstnernes Samfunn (UKS)
Performance Artists Oslo (PAO)