Tsolis, Yola Maria
Textile, photography, sculpture, installation
Born 1981, Yola Maria Tsolis is currently working in Oslo. Tsolis has a master's degree in visual art from the Oslo Academy of the Arts.
Her works explore the breach between space and image. By merging genres like photography, sculpture and architecture, she examines the notion of one point perspective. Her works are often in-situ constructions, creating a setting for the act of observation itself.
Influenced by nature, geometrics and grids her work with textile tessellations
and photo collages engage a method of self-organizing structures.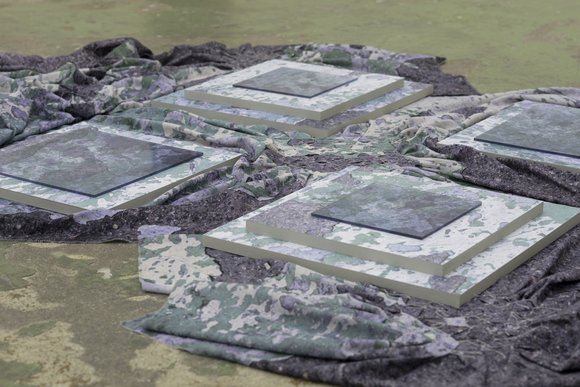 Dream Machine (2016)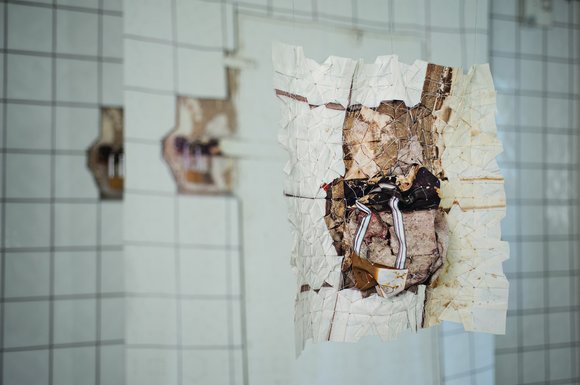 Genuine Fake II (2014)
Genuine Fake (2013)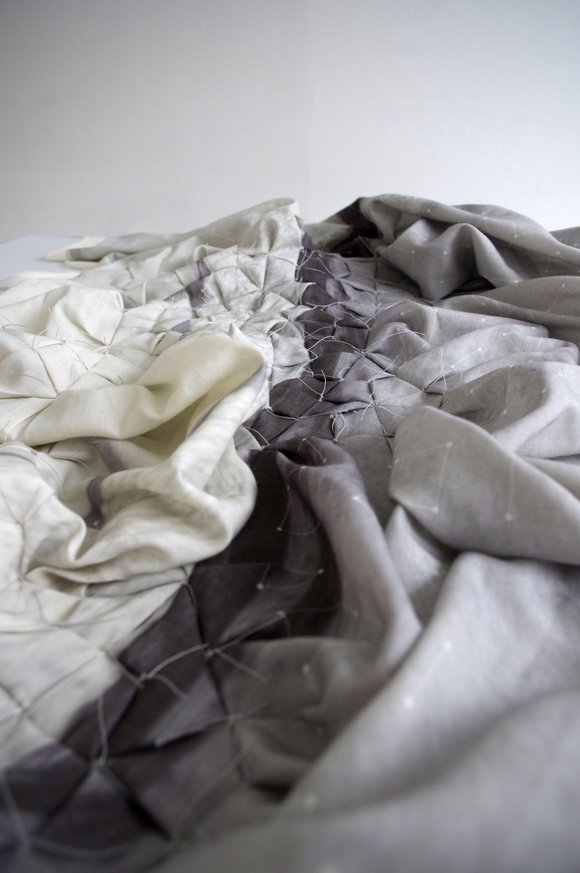 Lost in Translation (2012)
CV
Yola Maria Tsolis (b.1981, Norway)
Lives and works in Oslo and Drammen
E-mail: yolaaloy@gmail.com
Homepage: www.yolamariatsolis.com
Education
2012-2014 Master of Visual Arts, Oslo Academy of the Arts
2008-2012 Bachelor of Visual Arts, Textile Department, Oslo Academy of the Arts
2006-2008 Two year programme in Art, Fabrikken Asker Kunstfagskole
Upcoming shows
2017 Soft Galleri
2017 Svartjord, Spriten Kunsthall
Solo Exhibitions
2016 Svartjord, Prosjektrom Carl Berner
2016 Bærum Kunsthall
2015 Svartjord presents: Nothing in Excess/Drift Akershus Kunstsenter/ w Svartjord
2012 RANDOM access:right HEMISPHERE, Snake Mountain Gallery, Oslo
2012 Lost in Translation, Synnøve Germann Galleri, Drammen
Group Exhibitions
2014 Svartjord presents: Game of Mirrors/ a Secret Violence, The Association of Norwegian Sculptors, Oslo
2014 MA Degree Show, Oslo Academy of the Arts (curator: Marianne Zamecznik)
2014 Svartjord presents: Prindsekjøkkenet, Storgata 36b, Oslo (curator: Marianne Zamecznik)
2013 It´s a Girl, Akershus Kunstsenter
2013 The Circle and the Square, Grunerløkka Kunsthall, Oslo (curator: Jan Frauchen)
2012 Svart Sol, Vaffelføzz, Union Scene, Drammen
2012 BA Degree Show, Oslo Academy of the Arts (curator: Dyveke Sanne)
2011 "Art in light Speed", Black box, Oslo Acadamy of the Arts
2009 Black Lodge, Ullevålsveien 5, Oslo
2008 Degree Show, Fabrikken Asker Kunstfagskole
Grants
2017 One-year grant, Norske Kunshåndverkere
2017 Art supply grant, Arts Counsil Norway
2016 Exhibition Supply, Svartjord, Norwegian Art Council
2015 Two-year Work Grant, Arts Counsil Norway
2014 Exhibition grant, Svartjord, Arts Counsil Norway
2014 Prize for Art and Design students, Svartjord, Oslo Academy of Visual Arts
2014 Grant for Art Students,The Relief Fund for Visual Artists (BKH)
2014 Art supply grant, Arts Counsil Norway
2012 Grant for Art Students,The Relief Fund for Visual Artists (BKH)
Comissions
2015 November Exhibition, BBK
Other
2014 Co-founder and member of the artistgroup Svartjord