Benammar , Hanan
Hanan Benammar (Algeria, France b. 1989) lives and works in between Norway, France and The Netherlands.
She holds a BA from Ecole Supérieure des Beaux-Arts (Rueil-Malmaison/Paris), an MA from the Art Academy of Oslo and a second MA from the Dutch Art Institute (Arnhem, NL).
She recently had One way to a desert's solo exhibition at House of Foundation (Moss, Norway), in which the adventures of two people sent a one way trip were narrated, respectively Boujdour (Occupied Territories of Western Sahara) and Boujdour (Saharawi refugee camp in Algeria) – in the Sahara desert.
Since moving to Oslo in 2011, she has been involved in different art events and institutions such as Gallery BOA, Ultima, Mosaic Rooms, Black Box Theater, aria (artist residency in algiers), the Museum of Yugoslav History and TAAK among others; with installations, music, sound, texts, and performances. She is also involved in experimental opera noise project feilkontroll, partly runs Vandaler forening and recently helped co-organizing First Supper Symposium's latest Prologs.
Most of her works are made on a long time period or dedicated to a process that will unfold on a life-time scale. She focuses her energy and ressources digging information that spans from botanical, geo-political, geological to anthropological or sociological studies in deserted landscapes of different continents, developing projects that are simultaneously monumental, performative and minimalist.
Medlem av NBK, UKS, NBF, BOA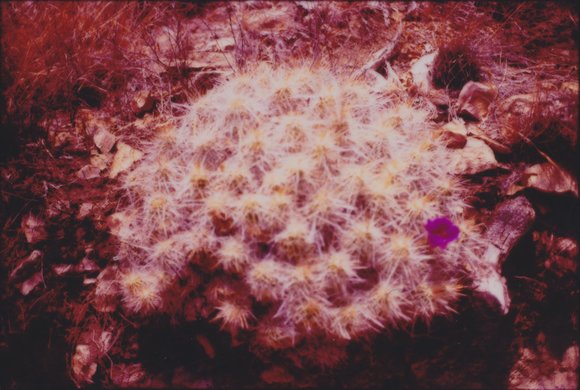 Desert Garden
One way to a desert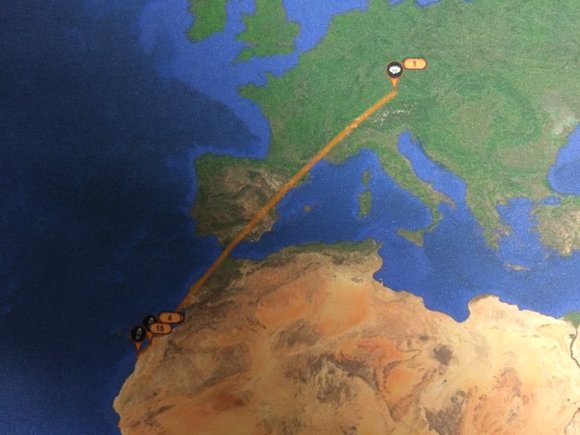 One way to a desert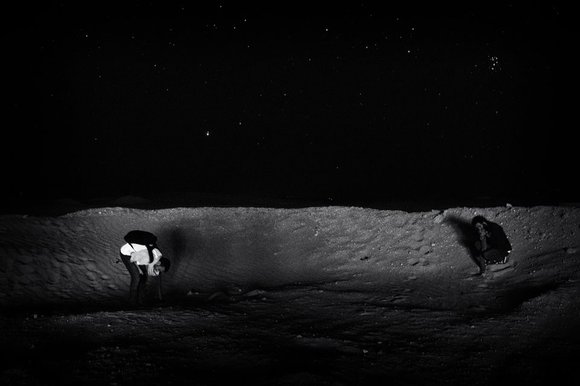 Play Ground
Planlagte prosjekter og utstillinger
She will be soon in residency at Museum of Camargue, as part of the Field Recording Phonurgia Award (Paris) she just won. She will also have several solo exhibitions and performances at Edge of Wrong (Cape-Town, SA), Small Project Tromsø (Norway) – to name a few – as well as several group exhibitions and projects such as Seed Journey at SALT (Istambul) and Radikal Unsichtbar (Hamburg).
CV
<> exhibitions/projects <> solo
fall 2017: One way to a desert, symposium (Oslo)
June 2017: Animal Sound Lab II, Museum of Camargue (Arles – France)
April 2017: Solo exhibition and performance, The Edge of Wrong (Cape Town – South–Africa)
20th of April 2017: A subjective archive on the Algerian Revolution, Museum of the Revolutionnaries (Tlemcen – Algeria) March 2017: Social Weavers, Small Projects (Tromsø – Norway)
Oct 2015: One way to a desert, House of Foundation (Moss – Norway)
Jan-March 2015: Desert Garden, Gallery BOA (Oslo)
<> exhibitions/projects <> group <>
September 2017: Desert Garden, Seed Journey, SALT Gallery (Istanbul – Turkey)
July 2017: Desert Garden, Seed Journey (Jenin – Palestine)
January 2017: Nomenrature, Radikal Unsichtbar (Hamburg – Germany)
May 2016: Motor Ringer, «Lager 001» (Oslo)
May 2015: Animal Sound Lab «Menneskeberget» Munch Atelier Ekely (Oslo)
Sept 2014: Antiphony «Using the Museum» DAI and Van Abbe Museum (Eindhoven – The Netherlands)
July-Aug 2014: Animal Sound Lab, art in public space, Land Art Biennial, UMA (Ulaanbaatar – Mongolia)
June 2014: A Place I Have Never Been «Travelling Communiqué», Museum of Yugoslav History (Belgrade – Serbia)
Mai 2014: Prenons un air dégagé: We already had no history, «Intervening Space: From the intimate to the world», curated by Yasmina Reggad,The Mosaic Rooms (London – UK)
April 2013:The Furtive Library, «Gjennom Tåka» UKS/Oslo Open (Oslo)
Dec 2012: Tekst to, w/ Ragnhild Aamås, Rom for Kunst/Oslo S/UKS (Oslo)
May 2012: Lands in Sight, 20 MA EXHIBITIONS, Fritt Ord (Oslo)
Feb 2012: Think Tank, Galerie Oberkampf (Paris)
<> collective learning/unlearning on public space and politics <>
2016-2017: Seed Journey, Futurefarmers (from Oslo to Istanbul)
2016-2018: «Herbanists» public collective project at Flatbread Society/Bjørvika Utvikling (Oslo)
2016-2017: Prologues 1,2,3 with First Supper Symposium
June 2015: Lover Man, art in public space, w/ Mattias Cantzler, Gallery PENG (Mainz – Germany)
July 2013: Masculine Landscapes, art in public space, w/ Mattias Cantzler, Tomma Rum, (Unnaryd – Sweden)
<> performances/concerts <>
March 2016: Brisée, LP w/ Per Platou (Paris), Museum for Digital arts Le Cube (Issy-les-Moulineaux – France) Aug 2015: Feilkontroll «Kvadraturen Kunst Festival», Galleri BOA (Oslo)
May 2015: Feilkontroll, «Støy på Landet», Deichmanske Grunerløkka (Oslo)
June 2014: Feilkontroll, Fukushima, DAI (Arnhem – The Netherlands)
May 2014: Feilkontroll, Everything Must Go Festival, Fukushima, Valland Fri Konst, (Göteborg – Sweden)
March 2013: Duett performance with Ragnhild Aamas Tredje Tekst Marstrand Festival, Black Box Theater, ++ (Oslo) Feb 2013: Performance at Spikersuppa Lyd Galleri (Oslo)
Jan 2013: « FRWLL » Feilkontroll, Revolver (Oslo)
<> residencies <>
June 2017: Museum of Camargue (Arles, France)
Nov 2015: Fransisco Lopez sound fielwork residency "Sonic Mmabolela" (Limpopo – South Africa) Nov 2014: ARTIFARITI (Boujdour Saharawi refugee camp – Algeria/Polisario)
Aug 2014: Land Art Mongolia Biennial LAM (Orkhon Valley – Mongolia)
June 2014: Macura Museum (Serbia)
Jan – Feb 2014: aria – artist residency in algiers (Algiers – Algeria) June 2013: Summerschool Residency , TAAK (Marfa, Texas – USA)
<> artist books/publications <>
2018: Desert Bærbær (work-and-title-in-progress) (Oslo)
Sept 2016: Desert Garden and other tales, release on label EARWITNESS (Barcelona – Spain)
March 2016: Brisée, LP WEAPON w/ Per Platou, Freevol art organisation (Paris)
June 2014: A Place I Have Never Been, "UNFOLD" initiated by Doreen Mende (Addis Ababa – Ethiopia) 2013: Audio book Lonely Travelers, Casco/DAI (Utrecht – The Netherlands)
2013: Desert Garden, Club Donny, clubdonny.com (Rotterdam – The Netherlands)
<> uncuratorial practice <>
June 2017: Human Scarecrows, one week performance program, Flatbread Society
2016: Lydfrokost Series, Vandaler forening
June 2016: Black Ice w/Greenpeace Norge, concert and screening, Cinemateket
May 2016: Human Scarecrows, one week performance program, Flatbread Society
Since Dec 2015: A home for friendship, Oslo in constant Motion, Vandaler forening
Since Dec 2015: From Dusk Till Dawn Art Prize w/ PNEK
2015-now: Co-founder and director of Vandaler Forening
Every year since 2012: Winter Solstice night exhibition
March 2012: Poetry Evening, Steentrupsgate Gallery (Oslo)
March 2012: Open Forum Exhibition, 13 Years Of Archive, Steentrupsgate Gallery (Oslo)
talks
Oct 2016: Artist Curator/Curator Artist – AC/CA, KhiO (Oslo)
April 2016: PRAKSIS, Atelier Nord ANX (Oslo)
June 2014: Lonely Travelers, The Netsa Art Village (Addis Ababa – Ethiopia) Oct 2013: Desert Garden, Hortus Botanicus, (Amsterdam – The Netherlands) April 2013: One way to a desert, National School of fine-arts (Helsinki – Finland) April 2013: One way to a desert, National School of fine-arts (Tallinn – Estonia)
<> press <>
2016: «16 Algerian artists»: http://artradarjournal.com/2016/01/17/16-algerian-contemporary-artists-to-know-now/
2016: Winter Solstice night exhibition 2015 Play Hooky (in norwegian) http://www.kunstkritikk.no/artikler/vintervandaler
2015: Desert Garden: http://www.kunstkritikk.no/kritikk/sjamantropologen
2014: Group exhibition «Intervening Space: From the intimate to the world»: http://www.ibraaz.org/reviews/70 http://universes-in-uni- verse.org/eng/nafas/articles/2014/intervening_space
<> grants/prizes <>
Sept 2016: Phonurgia Award in Field Recording (Paris)
June 2016: One year working grant «Billedkunstnernes Verdlagsfond» NBK
June 2016: Production grant for the Winter Solstice 2016
June 2016: NBK project grant for Social Weavers
September 2015: Artist house Vandaler forening from Oslo Art Council, Lille Tøyen Hageby
June 2015: Project grant Norwegian Art Council for One way to a desert
Mai 2015: Nomination to DNB Young artist prize
April 2015: One year working grant «Billedkunstnernes Verdlagsfond» NBK
January 2015: Exhibition grant for Desert Garden, Fond for Lyd og Bilde (Norwegian Foundation for Sound and Image) Sept 2014: Project grant Norwegian Art Council for Desert Garden
June 2014: OCA international support grant for Play Ground
June 2014: OCA international support grant for A Place I Have Never Been
April 2014: Working grant «Diversestipend» Norwegian Art Council
April 2014: Nomination to Future Generation Art Prize (Kiev)
January 2014: OCA international support grant for Prenons un air dégagé: We already had no history. (Algiers/London)
<> field-research trips <>
2015: Kazakhstan (Aral Sea and Mangishtau desert pigrimage); South-Africa/Botswana border; Namibia 2014: Ethiopia; Mongolia; Algeria (Sahara and High Plateous)
2013: Sonorian desert; Joshua Tree desert; Nevada; Arizona; Chihuahua desert
2012: Sudan; Egypt
2008: Russia; Mongolia; China
<> education <>
2012/2014: MFA at the Dutch Art Institute (Arnhem –The Netherlands)
2011/2012: MFA at the National Art Academy of Oslo
2010/2011: First Year MA at Cergy-Paris Fine arts and Oslo Kunstakademi (Paris/Cergy, Oslo)
2010: BA / Diplôme National d'Arts Plastiques (DNAP) w/ Congratulations of the jury (Paris/Rueil-Malmaison)
<> other <>
April-June 2015: Art teacher at the French School (Oslo)
2013: Guest teacher for HerNoise study trip, Oslo National Art Academy (Oslo)
2012: dOCUMENTA (13), "Maybe Education" project/artist's assistant (Kassel – Germany) 2012: Interpreter for Oca's talk "Issa Samb and Koyo Kouoh" (Oslo)
NBF, NBK (Association for Norwegian Visual Artists), UKS (Young Artist Society)