Nicolaisen, Terje
Alle teknikker
Terje Nicolaisen tycks återuppfinna sig på I Wish This Was A Song. Utanför sina porträttmålningar, absurdistiska proposals och performances slumrar även en oanad musikalisk böjelse i Nicolaisens likaså absurda kompositioner, vilka hämtar lika mycket från Duchamp som från punkestetik. En kort presentation vidhäftar verken.
Sorry beskriver en leda vid att vista vernissager medan låtens sentimentala pianoslinga framförs med ett sorgset svårmod: »I'm sorry that I didn't go/ to the opening of your last show/ I'm sorry that I didn't see/ the show about your autopsy/ I'm sorry that I didn't know/ about the party after your last show,« kväder Nicolaisen. Lika korta som koncist konstaterande är de mekaniskt utförda låtarna, improvisatoriskt registrerade med en iPhone, återgivande konstvärlden på avstånd och en slags desintresserad kritik av den.
Tydligast blir denna tekniskt måttliga eller indifferenta kompetens i Nicolaisens tolkning av Robert Morris Blind Time Drawings. Inledd i början av 70-talet har skulptören, minimalisten tillika konceptkonstnären Morris gjort en rad teckningar försedd med ögonbindel, där han tecknar efter en på förhand framställd instruktion; han gör en uppskattning av hur lång tid utförandet kommer att ta och skriver ner själva processen och den eventuella tidsförskjutningen bredvid teckningen.
Nicolaisen sjunger en av dessa nedtecknade processer ackompanjerad av piano. Hans emotionella emfas vid tolkningen av Morris teckning gestaltar på ett motsvarande sätt vad Duchamps readymades uppmärksammar: det som i grunden utgör en bild. Om Morris »blinda tid« frammanar tidens hålrum eller vad Deleuze kallade för den rena optiska perceptionen, uppvisar Nicolaisens mekaniska och haltande uppförande, som om han för första gången läser texten, det som utgör musik genom en performativ readymade. Via spillet mellan texten och rösten strömmar den ohörda tiden.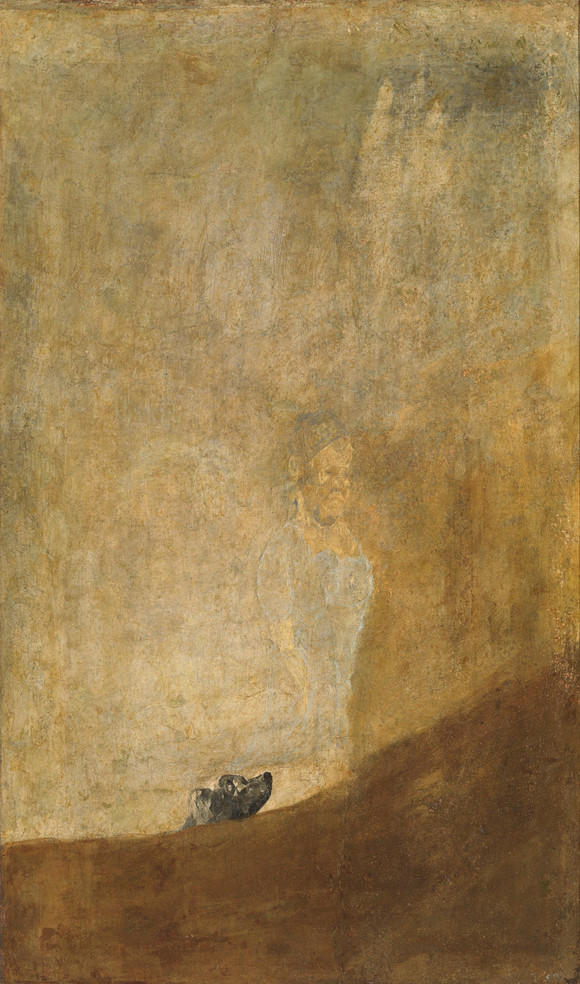 Slightly Altered Goya
Stilleben (Riis)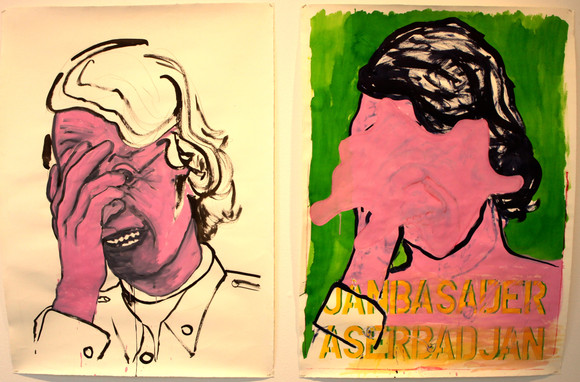 Basjanader/Aserbadjan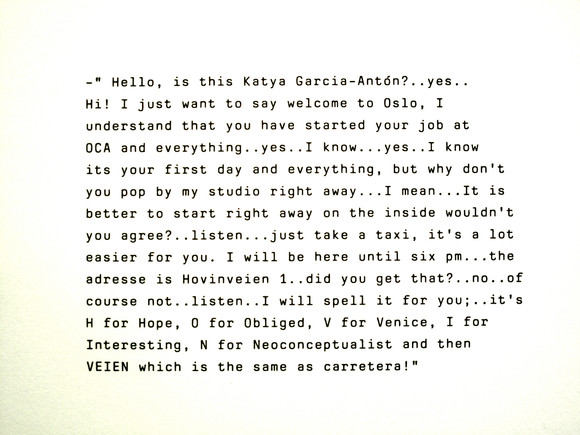 Impulse (Katya)
Planlagte prosjekter og utstillinger
The Master Of Goya's Half Drowned Dog. Bomuldsfabrikken Arendal Mars 2017
Gråmølna Trondheim Mars 2018 (Tegneklubben)
Tegnerforbundet Høst 2018 (Tegneklubben)
CV
CV
Terje Nicolaisen (1964) Live and works in Oslo Utvalgte separatutstillinger:
2016 Kunstnerforbundet, Oslo 2015 LYNX, Oslo
2014 Tegnerforbundet, Oslo 2012 Tidens Krav, Oslo
2011 Henie Onstad Kunstsenter 2011 Kunstnerforbundet, Oslo
2010 Kunsthall Oslo, Oslo
2010 Tromsø Kunstforening, Tromsø 2008 Galleri Riis, Oslo
2006 Kunsthall Bergen No.5, Bergen 2006 Sound of MU, Oslo
2005 Ski Kunstforening, Ski
2004 IKM – International Museum, Oslo 2001 Tegnerforbundet, Oslo
2001 Kunsthall Bergen No.5, Bergen 2000 Gallery Aoyama, Tokyo
2000 By The Way Gallery, Bergen 1998 Galleri Otto Plonk, Bergen 1996 Galleri I-Box, Trondheim
Utvalgte gruppeutstillinger:
2017 Dale Kunstnersenter @ Bumuldsfabrikken Kunsthall
2016 En Psykogeografisk Guide til Oslo, Tegnebiennalen 2016 (TK) 2016 Akershus Kunstnersenter, Drawing For Freedom
2015 Hotel De Ville, Drawing for Freedom, Paris
2015 Harstad Kulturhus, Kultrrådet75år, Harstad (TK)
2015 Spring Depot, Tenthouse, Oslo
2015 Vinylens Tilbakekomst, Nasjonalmuseet, Oslo
2014 Kristiandsand Kunsthall, Game of Life II, Kristiansand 2013 KINO KINO, Sandnes (TK)
2012 Museet for Samtidkunst, I WishThis Was A Song, Oslo 2012 Cirrus Gallery, Pacific Standard Time, Los Angeles 2012 Delikatessenhaus, Leipzig (TK)
2012 Kunstnerforbundet, Oslo, Kabinett
2011 NoSpace, 18thStreet Art Centre, Los Angeles
2011 No-sphere. Norway In NYC, New York
2011 Kunsthall Oslo, SQUID (Parallellaksjonen), Oslo
2011 No-sphere, New York (TK)
2010 Grimm Museum, Berlin (TK)
2010 Haugar Vestfold, Clusters Re-mix 2010, Tønsberg 2010 Momentum Kunsthall, Drawing Biennale, Moss
2010 MOLAF – Museum of Longing and Failure, Bergen 2009 OCA Office for Contemporary Art Norway
2009 Botkyrka Konsthall, Stockholm, Labyrinth09
2009 Planka i Tromsø #1, Tromsø
2009 UKS, Young Artist Society, (TK)
2009 Podium, The Living Dead, (TK)
2009 Tegnerforbundet, Kunstnerboken
2008 TEGNERFORBUNDET, Oslo (TK)
2008 VOSS KUNSTLAG, Portraits
2008 PROJEKT 0047, Rykk Tilbake Til Start
2007 Skaane Konstforening, Malmö (TK)
2007 Gallery 54, Göteborg (TK)
2006 Vigeland Museum, SkulpturBiennale 06 2006 National Museum of Art, New Aquisitions 2006 Fotogalleriet, Oslo BOKAKTIG
2006 Salo Art Museum, Halikonlahti, Green Art 2006 Stenersen Museum, TegneBiennale 06 2005 Projekt 0047 Berlin, Stilleben/Rakett 2005 Bergen Kunsthall, The Drawing Club (TK) 2005 Ringnes Festival 2005
2004 Momentum 3rd International Art Festival, Moss
2004 Tromsø Kunstforening, Kunst til folket
2004 Bomuldsfabrikken Kunsthall, Arendal
2003 Maniege Center for Contemporary Art, St.Petersburg 2003 Kunst i Nordland, w/ Markus Renvall
2003 Kunstnernes Hus, Kunst Til Folket
2003 Vestfold Haugar, SkulpturBiennale03
2002 Lillehammer Kunstmuseum, SkulpturBiennale01
2002 Drammen Museum, Norsk Slacker tegning
2001 Stenersen Museum, Skulpturbiennale01
2000 Galeria U JezuitÛw, Poznan, Polen
2000 Helsinki Environmental Art Project, HEART, Helsingfors 1998 Museet for Samtidkunst, Oslo, Frie Kunster
Education:
1996-97 KHIB – Academy of Fine Art,
1996 KHIB – Institute for Photography, 1993-96 NTNU (KIT) – Academy of Fine Art. 1988-90 Strykejernet Kunstskole
Projects:
2016 LP recording and release på Norsk Sokkel Records 2016
2014 Kurator for Tegnebiennalen 2014, med Will Bradley and Elisabeth Byre
2014 Utsmykking av Ambassadeboligen i Roma 2014, Norsk Sokkel
2014 Solokonseert på Høvikodden Live, søndag 27.april 2014
2012 LP recording and release at Tidens Krav, Oslo
2010 Snowball Editions 2010 Multiple released in September.
2010 Dramatikkens Hus, 2010 3 performancer Kurt Johannesen & Terje Nicolaisen 2001- Norsk Sokkel Award 2001 / 2002 / 2005 / 2007 / 2011
2005 Oilcompanies Suck (2005) Beerlabel for Cathrine Evelid Artist Beer Project 2005 2004 Tegneklubben (2004 – ) With Martin Skauen, Bjørn Bjarre,
Paul Dring, Ulf Carlsson and Terje Nicolaisen
2004 SKA TV Art Awards (2004) Jury og research w Ivan Galuzin and Christian Bold 2003 OCA Low Budget Discursive Furniture Competion 2003 Med Ulf Carlsson
2002 NORSK NÆRVÆRSFORMIDLING , Curator for UKS exhibition August 2002
With Morgan Schagerberg, Ane Hjort Guttu, Jenny Magnusson, Gardar Eide Einarsson, Anna Maria Sigmond Gudmundsdottir, Ole Martin Lund Bø,
Siri Hermansen, Trine Lise Nedreaas og Åsil Bøthun
2001 Something Rotten in the State of Norway , Guesteditor at UKS-forum for samtidskunst. Tekster av Siri Meyer, Erling Dokk Holm, Anne Brit Gran, Thomas Hylland-Eriksen, Nina Witozeck, Runar Døving, Erik S Reinert, Staffan Schmidt, Joar
Tranøy og Morten A Strøksnes
1997 Parallelle projekte in der stadt Münster 1997, Parasitt på
Skulptur.Projekte in Münster 1997 Forts..
Stipend:
2014 Ingrid Lindbäck Langaards Stiftelse 2012 Ingrid Lindbäck Langaards Stiftelse 2012 Ingerid,Synnøve & Elias Fegersten 2011 Statens Garantiintekt
2009 Royal Caribbean Arts Grant
2008 Statens 3-årige Arbeidsstipend
2007 Bildende Kunstneres Hjelpefond 2006 Ingerid,Synnøve & Elias Fegersten 2006 Billedkunstnernes Vederlagsfond 2005 Ambrosius Egedius og Hustrus legat 2004 Billedkunstnernes Vederlagsfond 2003 Billedkunstnernes Vederlagsfond 2002 Billedkunstnernes Vederlagsfond 2002 Ingerid,Synnøve & Elias Fegersten 2000 Sasakawa Foundation
1998 Ingerid,Synnøve & Elias Fegersten 1998 Bergen Kommunes Etableringstipend 1997 Statens etableringsstipend
Collections:
Norwegian Embassy in Rome – UD
Nordea Collection of Art
National Museum of Art- The National Gallery Bergen Museum of Art
Drammens Museum of Art
National Museum of Art- Museum of Applied Arts Radisson SAS Oslo Plaza Hotel
Recidency:
2013 KW17 – Recidency at Kunstnernes Hus (TK) 2011 18th Street Art Center Los Angeles
2006 OCA – Berlin Mitte Recidency