Kitti, Melanie
Installasjon, vev, skulptur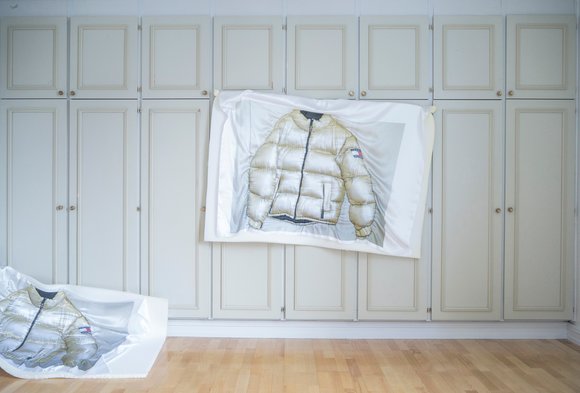 If sun is your totem 1-2 (2017) Photo printed on textile, plastic foam, poly stuffing and nylon thread.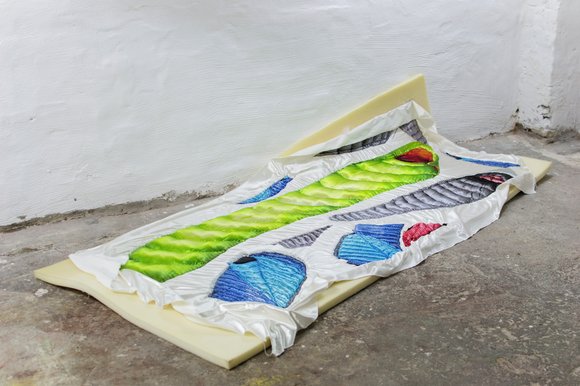 Penniless solvent (2016) Photo collage printed on textile, plastic foam, poly stuffing and nylon thread.
Plucky is the robbers daughter (2016) Hand woven tapestries.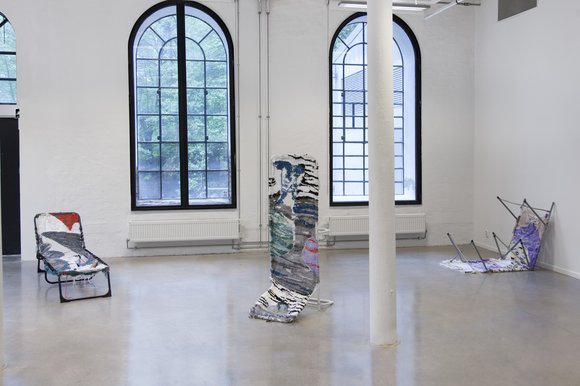 Lung for some portrayal, long for some map 1-3 (2016) Hand woven tapestries mounted on sunbeds.
Planlagte prosjekter og utstillinger
Pony Magazine #1
Vårutstillingen 2017. Melk Gallery, Oslo
CV
Born 1986 in Umeå, Sweden.
Lives and works in Oslo, Norway.
RELEVANT EDUCATION
2013-2016: Bachelor in medium and materialbased art. Dept. of textile. Oslo National Academy of The Arts.
GROUP EXHIBITIONS in selection
2017:
Kaffemik, Group show curated by Milena Høgsberg and Kenneth Alme, Ole Vigs gate, Oslo.
2016:
Juleutstillingen, Kunstnerforbundet, Oslo.
Zero Forbehold, Re-Decoration, TABLEAU PAPER #7. Gym Ila, Oslo.
The intern ship (Oslo Art Weekend), Galleri Slursula, Oslo.
Mule Maneuvers, KVIT Galleri, Copenhagen
HYMEN + Munch = Success, The Munch Museum, Oslo
Got it for cheap, David Risley Gallery, København / Soulland, New York / Haik with Us, Oslo / Agnes b`s Gallery du Jour, Paris / Steinsland Berliner, Stockholm.
The spring exhibition, Kunsthal Charlottenborg, Copenhagen.
Mmmmmmmmmm, Noplace, Oslo.
2015:
Cut a rug, move a wave, Galleri Blunk, Trondheim.
Nein, FELT galleri, Bergen.
Kvit opening exhibition, Kvit galleri, Copenhagen.
De for hånden værende spikers prinsipp, Welhavens Kafé,
Oslo.
1+1=11, Agder Kunstsenter, Kristiansand.
Menneskeberget. Mot lyset, Edvard Munchs atelier at Ekely, Oslo.
2014:
FELT, Noplace, Oslo.
Why did that scene linger so long in my memory?, Podium, Oslo.
CURATING WORK
2016-2017:
Co-curator with Emilie De Rohan Birkeland. Destinys Atelier, Oslo.
www.destinysatelier.no
2014:
Co-kurator with Josefine Lyche:
Mind & Matter, Gallery Lynx (OSLO)
Including artists: Knut Ivar Aaser, Marius Engh & Jordan Rosenfeld, Ane
Graff, Hennie Ann Isdahl, Carl Mannov, Elise Storsveen, and Snorre
Ytterstad.
Publications:
Pony Magazine #1
HYMEN #3
Tableau Paper #7 (Redecoration)
Klassekampen ("Selvportrettet" invitert av Sara Hegna Hammer)
Contact information:
004792677711
melanie@melaniekitti.net
www.melaniekitti.net