Wanthiang, Apichaya
Maleri, video installasjon, selvorganiserte kunstutdannelse workshops
Motiver i mitt kunstnerskap:
1. En malerisk undersøkelse hvor jeg konstruerer oppholdssteder hvor tiden kan oppleves som saktere, hvor tankene kan vandre og tenking kan vaere ikke-linjaer. Det er fundamentalt for kapasiteten til aa relatere til og empatisere med andre.
2. En undersøkelse i omfavnende innstallasjoner, hvor deling av landskap og lokale historier blir muliggjort. Her er det lille og anekdotiske blitt behandlet som viktig og "utveksling" er ikke bare en ide, men en levd erfaring og forskjeller trenger ikke aa bekjempes men blir gitt lov til aa eksistere i komplekse møter mellom mennesker.
3. En undersøkelse om eksperimentel (kunst) utdannelse med intensjon om aa starte en hybrid plattform i Bangkok (TH) hvor kritikalitet og kreativitet kan eksistere og vaere virksomme i forhold til sosial og politisk helbredelse. I denne letingen har jeg opplevd aa bevege meg mer friksjonslost mellom det Suzanne Lacy har kalt "det private til det offentlige": fra kunstner til opplever, til journalist til analytiker og tilslutt til aktivist. Mitt fokus her er paa personlige historier paavirket av nasjonale traumer, de mange og komplekse ansiktene som hører til strukturell vold, slik som nasjonalisme, turisme, militaer regime, sensur og religion.
4. En undersøkelse i 'Practice Models". Jeg er opptatt av mater aa arbeide paa og aa utveksle kunnskap paa, i den forbindelse har jeg tatt i bruk begrepet 'Practice Models". Det beskriver strategier som er annerledes enn vanlige praksiser ved at de kan innvolvere (lokale) politiske eller sosiale temaer, men maa vise hensyn til hele menneskeheten. Det impliserer strukturelt engasjement, som beveger seg forbi identiteter eller steder.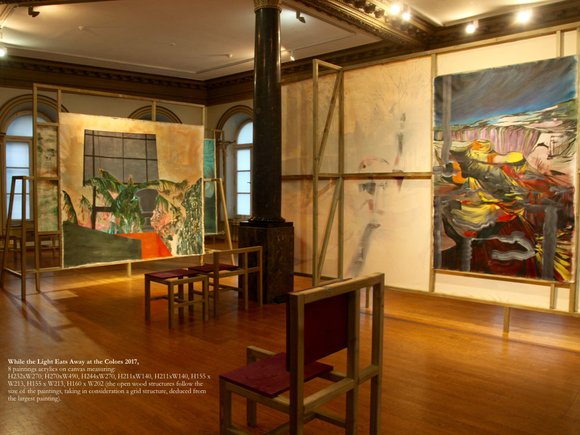 While the Light Eats Away at the Colors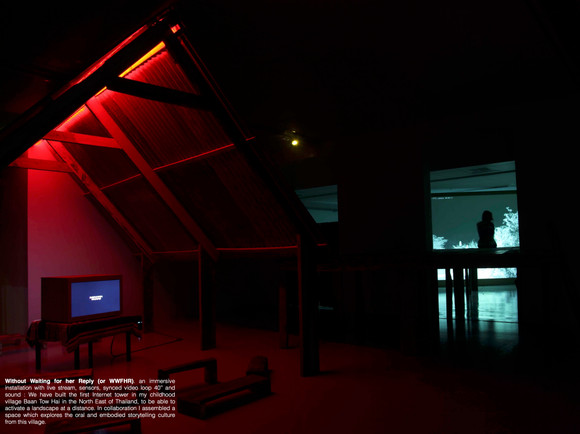 Without Waiting for her Reply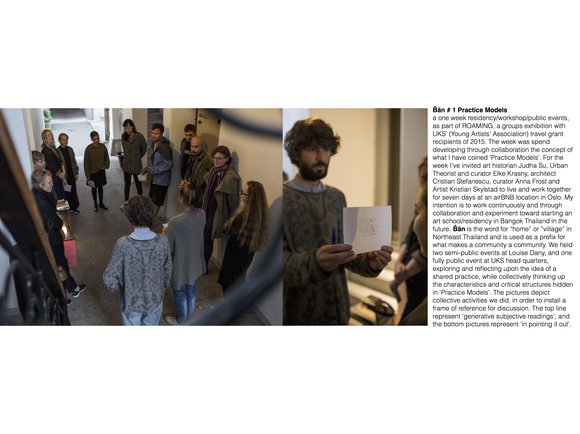 Practice Models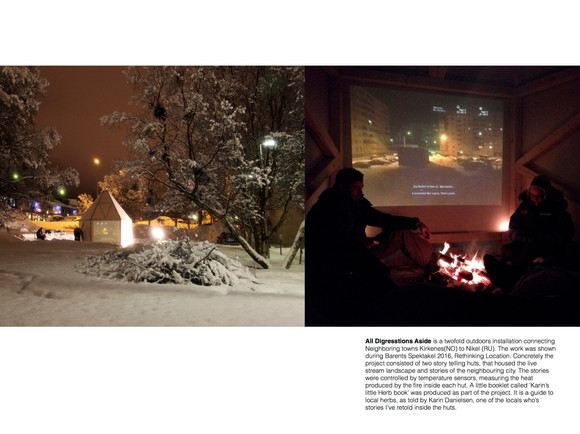 All Digressions Aside
Planlagte prosjekter og utstillinger
1. Nothing Changes, a Landing, 2017 at Galleri 3,14. The aim of my painterly practice is to generate dwelling places. I am currently working on large scale paintings, which will be placed in a specific exhibition design. I will again work closely with architect C. Stefanescu, so as to create the most optimal spatial experience to house the paintings in. I consider my painting practice and relational and research based experiments complimentary and fundamental to my larger intention: to create complex clusters of spatial, reflective environments which allow for empathy and relatedness.
2. Not by Fiction, but By Reality, April/June 2017 at MNAC in Bucharest, Romania and at HKS in Bergen, Norway. Together with Stefanescu, I have started to explore clusters of abandoned industrial buildings along the rail corridor between Bucharest and Brailla. The result of this investigation will be shown in two immersive installations/exhibitions. We want to address a national and traumatic post-communist legacy, not through words but through visual transference and affect. The intention is to also show some of the buildings, like a subjective archive of abandoned and material pasts.
3. B̂ ān # 2, counteracting with and for, Febr/March. 2017 I will continue practical experimentation with self-organised art educational structures with help from art historian Judha Su (TH). I will set up temporary workshop situations, as a way of testing the water. It is of great importance to experiment locally and to be sensitive to local conditions and context in order to make possible a future school/residency in Bangkok. I will also continue to search for future collaborators and work towards creating a stable exchange network between the Norwegian context and my native Thai context. For the foreseeable years to come I will have to delve deeper in complex painterly, spatial, relational and educational matters.
CV
CURRICULUM VITAE
APICHAYA WANTHIANG
Education
2010/2012 Master in Fine Arts, KHIB, Academy of Fine Arts, Bergen, Norway
2006/2009 Bachelors in Visual Arts, Sint-Lukas Brussels, Belgium
2004/2006 Beeldende Vorming, Sint-Lukas Kunsthumaniora, Brussels, Belgium
1999/2004 Latin and Modern Languages, Sint-Theresiacollege, Kapelle o/d bos, Belgium
Solo Exhibitions
2018 (Upcoming) LNM, Oslo Norway
2017 (Upcoming) While the Light Eats Away the Colors, Galleri 3,14, Bergen, Norway
2015 A Sudden Outburst of Laughter, Trykkeriet, Bergen, Norway
2014 still, a song, Sound of Mu, Oslo
2014 Without Waiting For Her Reply (WWFHR), USF, Bergen, Norway
2012 Geography of A, Hordaland Kunstsenter, Bergen, Norway
2010 Going Back From X into Minus, Martin van Blerk Gallery, Antwerp, Belgium
Collaborative Projects
2017 (Upcoming) B̂ān # 2, counteracting with and for, JAM, Bangkok, Thailand
2017 (Upcoming) Not by Fiction, but by Reality with C. Stefanescu, HKS, Bergen (NO)
2017 (Upcoming) Not by Fiction, but by Reality with C. Stefanescu, MNAC, Bucharest (RO)
2014 A Conversation pt.2-4, with N. Barnett & R. Nesbitt, Sober & Lonely, Joburg (ZA)
2014 A Conversation pt.1, with N. Barnett & R. Nesbitt, Atlantic Studios, Cape Town (ZA)
Group Exhibitions
2016 Roaming – UKS, Oslo, Norway
2016 Twofold Installation for Barents Spectakel, Kirkenes, Norway & Nikel, Russia
2015 Herfra, by J. Hestvold&B. Clementsen, Kunstnerforbundet, Oslo, Norway
2015 Static Theatre: Those that have been left behind, BIT, Bergen, Norway
2013 Durative Ovelser organized by BEK, Kalfarlien 15, Bergen, Norway
2013 cooccur, prøverommet curated by Benedicte Clementsen, Knipsu, Bergen, Norway,
2012 65 Malerien, Bergenkjøtt, Bergen Norway
2012 A Ride Full of Traps, Graduation Show at Bergen Kunsthall, Norway
2012 Between the Four, F-blok Gallery, Bristol Engeland
2011 17 M.O.H exhibition, Bergenkjøtt, Bergen, Norway
2010 The Stolen Art Auction, VZW Machine, Gent, Belgium
2010 Canvascollectie at Bozar, Brussels, Belgium
2009 Don't Know Whether I'm Coming or Going, EEA, Beelitz Heilstatten, Germany
2009 Final Bachelor Exhibition, City Hall Schaerbeek, Brussels, Belgium
Curatorial
2016 Cinema B-open, Screening program for B-open, Bergen Kunsthall, Norway
2015 If On a Winter's Night, a Room, with Cristian Stefanescu, A-Works, Bergen, Norway
2014 I Love Your Manners Full of Deceit, KNIPSU, Bergen, Norway
2011 The Social Nature of Intuition, Galleri Fisk, at Tag Team and Premiss, Bergen, Norway
2011 Diffraction of the Social, Galleri Fisk, Premiss, Bergen, Norway
Residencies
2016/2017 (Ungoing) Oslo Rådhus, studio C allocation, 18 months
2015 BARinternational pt.2, Kirkenes, Norway & Nikel, Russia
2014 Sober and Lonely, Johannesburg, ZA
2014 BARinternational pt.1, Kirkenes, Norway & Nikel, Russia
2012 Artist in residency, Stazioni Di Topolo, Topolo, Italy
2009 EEA09, European Exchange Academy, Beelitz Heilstatten. Germany
Teaching/Talks/workshops
2016 (Upcoming) Involved Urban Practice: Practice Models, Academy of Fine Arts Vienna, Austria
2016 Guest teacher: Source Materials, at NTNU/KIT, Trondheim, Norway
2015 Speculating on Art Education, hosted by Kungl. Konsthögskolan, Stockholm, Sweden
2015 Artist talk at Hacettepe University, Ankara Turkey
2015 Guest teacher, When Things Cast No Shadows, KHIB, Bergen Norway
2014 Assistant Professor, Fine Arts, KHIB, Bergen Norway
2014 Guest Advisor / Critics's Round on the EEA14-G, Beelitz Heilstatten, Germany
2014 Guest teacher, Writing in Space-Spectatorship in Installations, KHIB, Bergen Norway
2014 Guest teacher at NTNU/KIT, Trondheim, Norway
2013 Guest teacher: Karusell – Introduction to painting, KHIB, Bergen Norway
2013 Guest teacher: Scale and its Unfolding (On Process), KHIB, Bergen, Norway
2012 Guest teacher: Painting on Paper, KHIB, Bergen, Norway
Relevant Work
2016 Scenography for Table Turns, Bøen & Sletteland
2015 video mixing for Static Theatre, BIT, Bergen, Norway
2014 Writing/Designing Ebooks for BEK, Bergen, Norway
2013 Assistant for fellowship researcher Ellen Røed, Galleri 3,14, Bergen, Norway
2013 Aspirant, One year internship at BEK, Bergen, Norway
2012 Assistant at BEK, Bergen Center for Elektronic Art, Bergen, Norway
2012 Technical assistant for Real Life Stories, Stenersen Kunst Museum, Bergen, Norway
2012 Assistant for Sol LeWitt retrospective at Museum 'M', Leuven, Belgium
2012 Co-coordinator of the Master Seminar, In-between Spaces, landmark, Bergen, Norway
2012 Organizing Monday Reading Group, KHIB, Bergen Norway
2011 Assistant for fellowship researcher Patrick Entian, Rom8, Bergen, Norway
2011 Assistant for Sarah Morris commissioned work at the Gulatin building, Bergen, Norway
2011 Co-coordinating between KHIB, Bergen & Norway and EEA, Beelitz, Germany
2011 Co-coordinator Lectures: Materialized<=>Dematerialized, KHIB, Bergen, Norway
2011 Assistant for fellowship researcher Patrick Entian, KHIB, Bergen, Norway
2011 Manager of student run Galleri Fisk, Bergen Norway
Grants
2016 Arts Council Norway, Project Funding, Practice Models
2016 NBK, Project Funding, While the Light Eats Away at the Colors
2016 Bergen Kommune, Interdisciplinary Project with C. Stefanecu, Not By Ficion
2015 NBK, Projectfunding, Collaborative project with C. Stefanescu, Not by Fiction
2015 Bergen Kommune, Project Funding, All Digressions Aside
2015 Arts Council Norway, Art and New Technology, All Digressions Aside
2015 Arts Council Norway, Project Funding, A Sudden Outburst of Laughter
2015 NBK, Projectfunding, All Digressions Aside
2015/2016 Arts Council Norway, 2 year working grant for newly established artists
2015 UKS, Travel Funding for artistic research on Alternative Pedagogic Art Projects
2014 Bergen Kommune, International Exchange, A Conversation, the Pilot Edition
2014 NBK, Projectfunding, If On a Winter's Night, a Room
2014 OCA, international support for A Conversation, the Pilot Edition
2014 Bergen Kommune, Profesjonelle kunst- og kulturtiltak – Elektronisk Kunst, WWFHR
2014 NBK, Vederlagsfond, One year working grant
2014 Bergen Kommune, Rask Response, I Love Your Manners Full of Deceit
2013 Arts Council Norway, Kunst og Ny Teknologi, WWFHR
2013 Bergen Kommune, Rask Response, Without Waiting for Her Reply(WWFHR)
2013 NBK, Vederlagsfond, one year working grant
2013/2015 Bergen Kommune, studio for newly established artist, Kunstnerverksted Cs55
2013/2014 Arts Council Norway, Aspirant position at BEK
Publications
2014 On Affordances (or What Archives Cannot Do) for Grafters' Quarterly Issue 2
2014 Inclined Towards… Galleri 3,14 Twenty-Fifth Years Anniversary catalog
2014 I Love Your Manners Full of Deceit, Introduction to compendium, for Apis Press
2013 A Malaise in the Making, commission for B-open, reflections on Bergen Assembly
2013 Writing and Indifference, Bergen, Norway (Featured artist)
2012 Contribution to exhibition catalog, Odds, Odda, Norway
2011 ROV Magazine, Norway, Issue 3 (Featured artist)
2011 Mopp # 4: Fjernt, Oslo, Norway, (Featured artist)
2011 Contribution to exhibition catalogue, Ut I Min Hage, Harstad, Norway
Media / Reviews
2015 生活於極地的熱帶女子:專訪泰國藝術家, Emily Lee, Passage Life
2015 Vil skape samarbeid og nye opplevelser, Eva S. Johansen, Nordnesrepublikken
2014 Tar Tiden Tilbake, Birgitte Wisur Olden,Sør-Varenger Avisen
2014 Natt og Dag, Bergen April 2014
2012 'A ride full of traps' Bergen National Academy of the Arts, catalogue
2010 De Standaard, nr. 110, Jan Hoet Keurt de Canvas Collectie by Veerle Beel