Bjørne Linnert, Lise
Textile, drawing, photography, installation
I work conceptually, process- and project based. My starting point is current social and political issues, focused on women and the fight against abuse and violence. I often use collaboration as a way to work – with other professions such as philosopher, priest, dancer, fashion designer, cinematographer. And I often invite participants in workshops to contribute to the visual expression. My last extensive project, NI EN MORE, combines art, fashion design, social innovation and activism in an intercultural collaboration between contributors from Norway, USA and Mexico. We are setting up a sewing studio in Cd Juarez, MX, producing one of kind garments, to be sold internationally and worn to protest violence towards women.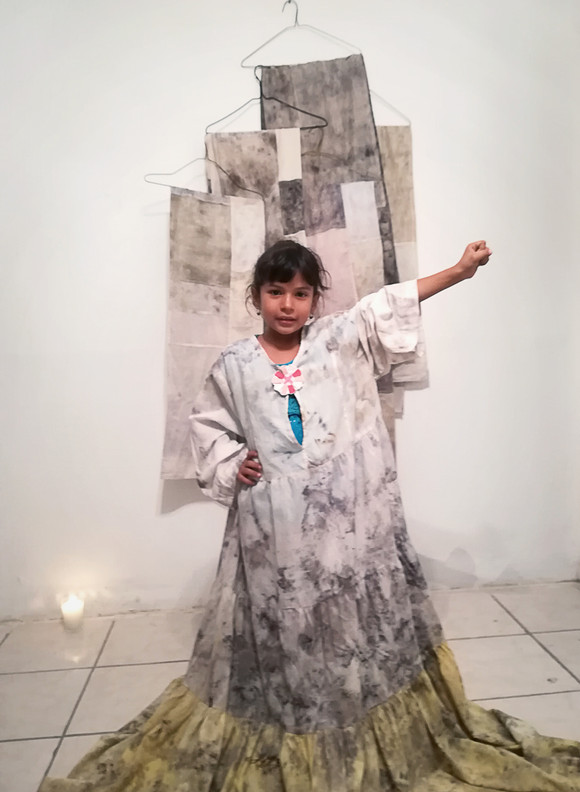 NI EN MORE - Art, Social Innovation, Activism and fashion. Our little hero from sewing studio in Cd Juarez, empowerment of women, clothes with a purpose. 2017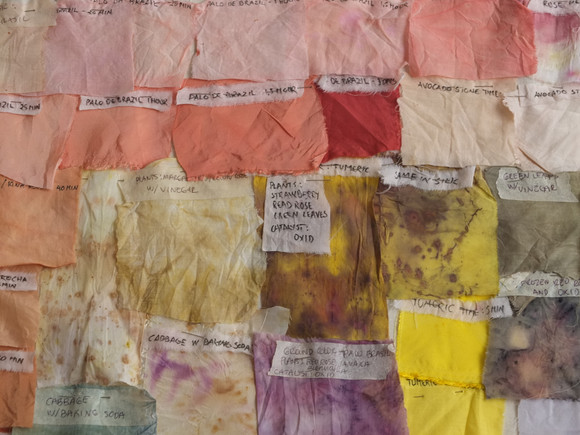 NI EN MORE - color chart for plant dyed garments, 2017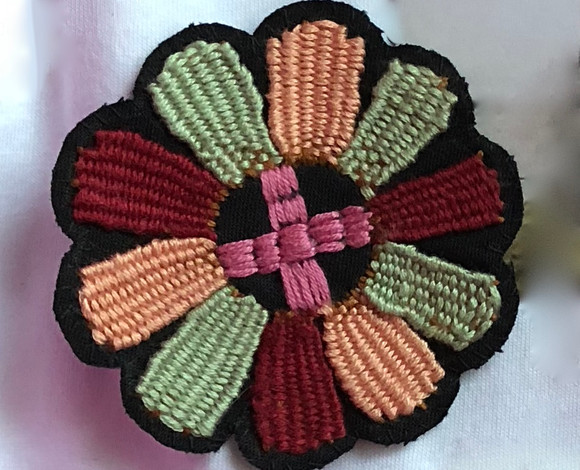 NI EN MORE - protest badge, to be attached to each garment, made in workshops discussing empowerment of women.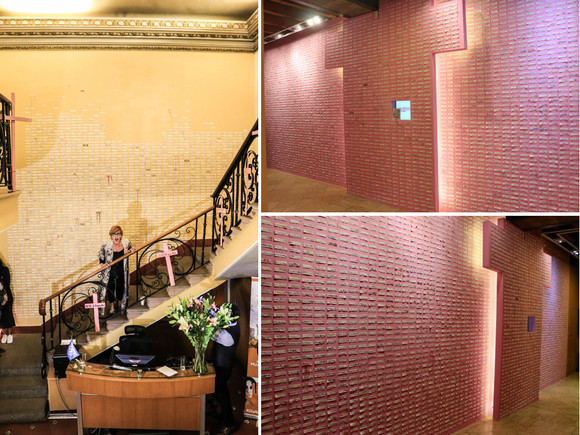 Desconocida, 2006 - 2018, 8000 handembroidered labels made in global workshops by 5000 people to protest murders of women, exhibition and performance at UN High Commissioner for Human Rights Office,and Women Museum, Mexico City, Nov 25th 2017
Planned projects and exhibitions
NI EN MORE – launch of projects first garments in Oslo on Women's day, March 8th, launch in NYC in April, planning in Marfa, Houston and Mexico City.
Workshop with different groups in Oslo, NYC, Houston, El Paso and Juarez, embroidering protest badges that will be attached to each NI EN MORE garment. During workshops discussing strategies for empowerment of women. Start: January 2018.
DESCONOCIDA UNKNOWN UKJENT – relational embroidery project, protesting violence towards women through embroidering nametags. Starting point Cd Juarez Mexico. Toured globally for 12 years. 8000 embroidered labels, now touring Mexico in collaboration with UN Women, 2018 – 2019
FROM THE CELL'S INSIDE (working title) – collaboration with priest Elisebeth Thorsen and inmates Ila High Security and Detention prison. To be shown in Oslo Cathedral fall 2018 in relation with the Cathedral's planned focus on text and writings as forms of expression in general and in religion specifically.
CV
Født 1964 i Oslo, Norge. Bor og arbeider i Oslo.
EDUCATION
1999-04 Glassell School of Art, Museum of Fine Arts MFAH, Houston, USA
1997-99 Oslo Tverrfaglige Kunstinstitutt, Oslo, Norway
1983-84 Evanston Art Institute, Chicago, Illinois, USA
CURRENT AND UPCOMING EXHIBITIONS
2017 – 18 DESCONOCIDA UNKNOWN UKJENT, Women Museum, Mexico City, MX and
UN High Commissioner Office for Human Rights, Mexico City, Mexico
Coming tour in Mexico in collaboration with UN Women.
2018 FRA CELLAS INDRE/ FROM INSIDE THE CELL Workshop and development of
work in collaboration with inmates Ila prison and detenstion center and priest
Elisabeth Thorsen. Exhibition of work in Ila prison.
FRA CELLAS INDRE, exhibition Oslo Catherdral, fall 2018
SOLO EXHIBITIONS- A SELECTION
2017 DESCONOCIDA UNKNOWN UKJENT, split exhibition between Stanley and
Gerald Rubin Center for Visual Art, El Paso, Texas, og Juarez Contemporary
Gallery, Cd Juarez, Mexico
PRESENCE performance at exhibition openings at Juarez Contemporary Gallery
and Rubin center. Collaboration with coreographer and dancer Paola Lopez
2016 DESCONOCIDA UNKNOWN UKJENT, exhibition/actions/workshops public
spaces in Cd Juarez and Mexico city in collaboration with activists, help
organizations and Amnesty, Mexico
2016 CRUELTY HAS A HUMAN HEART, Hå gamle prestegard, Jæren
2016 – 17 CRUELTY HAS A HUMAN HEART, dialogtour public spaces in Norway (solo):
Ullersmo prison/Hå Refugee center Jæren /Ila prison and detention center.
2015 CRUELTY HAS A HUMAN HEART, Oslo cathedral
2014 15 CRUELTY HAS A HUMAN HEART, Deichmanske main library/Bjørnholt/
Furuset-/Drammen-/Nesoddtangen library, Oslo/Høyskolen i Oslo
2012 UKJENT performance in collaboration with dancer and choreographer Runa
Rebne(NO), Musée Bernadotte / Fine Arts Museum, Pau, France
2011 DESCONOCIDA UNKNOWN UKJENT, Musée Bernadotte / Fine Arts Museum,
Pau, France
2010- 08 DESCONOCIDA UNKNOWN UKJENT ,Pallant House Gallery, Chichester,
UK/Hå gamle Prestegard, Jæren, NO/ The gallery at University for the Creative
Arts, Epsom, UK/SOFT gallery, Oslo
2008 DIALOGOS – VISUAL COMMUNICATION AND COLD COFFEE
Tegnerforbundet / Drawing center, Oslo, (with Jone Skjensvold)
2007 WHITE NOISE, Kunstbanken Hamar, NO (collaboration with Janine Magelssen)
2006 WHITE NOISE, Art League, Houston, USA
SELECTION GROUP EXHIBITIONS
2017 STING, NOISE BREATHING WITHIN, Nordic House, Reykjavik, Island
2016 – 14 SILENT SPACE – INTENSIFIED INTEGRETIES touring exhibition: Finnish
Institute, Stockholm, SE/Gallen Kallelan Museum, Helsinki, FI / Gallery F15,
Jeløya, NO / Meinblau Kunst und Atelier Hause, Berlin / Gallery Aurora, HIAP,
Suomenlinna, Finland, curator Nina Backman, Berlin
2015 THE COMMON THREAD – Sexual Violence Against Women in Contemporary
Art, Regional Court, Munich, Germany, Curator Dr Alexandra Mackel,
2015 ICH RUF ZU DIR. CRULETY, HUMANITY AND THE POWER OF ART, Moss
Church
2014 1814 REVISITED. The past is still present, Curator Rikke Kommisar, produced
by Akershus Artcenter, NO
2013 FALL EXHIBITION 2013, Kunstnernes Hus, Oslo, NO
In the name of Honor, #1 Mayfair, London, UK
2012 AN OASIS OF HORROR IN A DESERT OF BOREDOM, VISUAL Centre for
Contemporary art, Carlow, Ireland. Collaboration with Brian Maquire, Ireland,
Teresa Margolles, Mexico
2009- 12 OFF THE BEATEN PATH; VIOLENCE, WOMEN AND ART, traveling exhibition:
Stenersen Museum, Oslo / The University of California, San Diego's Art Gallery
/Chicago Cultural Center, Chicago / Redline, Colorado, USA / David J. Spencer
CDC Museum, Atlanta / New Orleans Center for Creative Arts / Newcomb
Gallery, Tulane University, Prospect 2, New Orleans, USA / El Chopo University,
Mexico city / Tijuana Cultural Center, Mexico
2011 LOST IN LACE, Birmingham Museums and Art Galleries, Birmingham, UK
SPRING EXHIBITION 2011, Charlottenborg Kunsthal, København, DK
2010 NI UNA MÀS, The Leonard Pearlstein Gallery, Philadelphia, USA
DESCONOCIDA UNKNOWN UKJENT, TSSK, Trondheim, NO
SELECTION PUBLICATIONS/REVIEWS
2017 Ingvill Henmo, Lise Bjorne Linnert, Sidsel Palmstrøm: Ode til en vaskeklut,
hymne til en tiger, Norske tekstilkunstnere 1977 – 2017, Grapefruit Publishing,
2017 Jorunn Veiteberg: Kunstnardrivne visningsrom, Fagbokforlaget
2016 Francesca Guerisoli: Ni Una Mas, Postmedia books 2016, Italia
2016 Articles, interviews in realtion to actions in El Paso and Juarez: ABC News,
intervjue 6 o´ clock news, 28/5 2016 Newspapers: Noticias, The Fusion
Magazine, The Digie Zone.
2015 Kjetil Røed: Nyanser av ondskap, Aftenposten 25/7, 2015
2014 Lise Bjørne Linnert/ Lars Fr H Svendsen: Cruelty Has a Human Heart,
Grapefruit Publishing, 2014
2014 Textile: Journal of Cloth and Culture; from In the loop Conference paper by
Angela Maddock
2012 Julian Cardona, Christian Viveros Faune, Stefan van Raay: An Oasis of Horror
in a Desert of Boredom, publication exhibition
Jean-Pierre Melot, Anne Clerget: Desconocida, Inconnue, Ukjent, publication
uexhibition Musée Bernadotte, Pau
2011 Lesley Millar, Lost in Lace, Transparent boundaries, Birmingham Museums and
Art Galleries, Birmingham, UK
2009 NRK Safari presentation of Desconocida
2009 Lucy Gundry: Desconocida Unknown, review in Textile: The Journal of Cloth
& Culture, issue 3 (2009)
2009 Jessica Hemmings, Desconocida : Unknown, review in Embroiderers´Guild,
May/June 2009
2009 Lesley Millar, Desconocida : Unknown, University for Creative Arts, Epsom, UK
2007 John Devine, White Noise, Artlies, Summer 2007, Issue 51
RELATED WORK, TEACHING, RESIDENCIES
2017 AGENDA #5, 2017, day seminar, International artists, responsible program in
collaboration with Sidsel Palmstøm and Kirsti Willemse
2017– Initiator and co-founder of NI EN MORE, establishin sewing studio in Cd.
Juarez, with base in art project Desconocida. Collaboration with fashion
designers and activists from Norway, USA and Mexico.
2015 – 18 Chair woman, Norske tekstilkunstnere (NTK)( Norwegian Textile artist union)
2014 – 15 Second leader, Norske tekstilkunstnere (NTK)( Norwegian Textile artist union)
2016 Visiting artist KHIO, textile department
2016 Presentation at "Radikaliseringskonferansen 2016", Litterature house in Oslo
arranged by Justice department.
2014 – 15 Conversation with different writers based on book Cruelt has a human heart,
Brit Bildøen, Kaja Skjerven Mollerin, Lars Elton, Lars Fr H Svendsen mfl
2015 «Dialogconmversations: church, art and society. Paneldiscussion Moss church
with bishop Atle Sommerfeldt, writer on Michelet, lled by Anne Enger
2015 Heap of Apricots, performance in seminar: 'Grief, Trauma, Loss: The Art of
Bereavement', University for Creative Arts, Epsom, UK
2014–15 Visiting artist Laznia Centre for Contemporary Art, Gdansk, Polen
2014–15 Residency HIAP, Suomenlinna, FinlandPresentasjon HDK, Gøteborg, Sverige
2013 Presentasjon «Victoria and Albert Museum» London in The Subversive Stitcth¨
Revisited: The Politics of Cloth, kuratorer Jennifer Harris, Pennina Barnett,
Althea Greenan,
2012 Visiting artist Wexford Campus School of Art & Design, Carlow, Ireland
2006-15 Nydalen Art school, Oslo, Norway
2010 Pallant House Gallery, Chichester, UK, artist talk and workshop
Residency/Workshop/Exhibition Medana, Slovenia
2007 Roger Brown residency, Chicago Art Institute, New Buffalo, Michigan USA,
Stipend, project grant and prices
2017 Project support Vederlagsfondet
2015–17 3-year working grant from the Governement
2017 Norwegian Craft, travelsupport, USA/ Mexico Desconocida
2016 Norwegian Craft, travelsupport, USA/ Mexico Desconocida
2016 Governements exhibition grant Cruelty has a Human Heart, Hå gamle
prestegard
2016 Fritt Ord, project grant tour of Cruelty has a Human Heart
2015 OCA travel grant USA/ Mexico, Desconocida
Norwegian Craft, travel grant, USA/ Mexico, Desconocida
2015 Department of Culture, support dialog tour public spaces Cruelty Has a Human
Heart
Prosject grant, Vederlagsfondet
2014 One year working stipend – Vederlagsfondet
Norwegian Art Council, support to publication Cruelty Has a Human Heart
Oslo Municipal Art and Culture stipend
Fritt Ord, prosject grant publication Cruelty Has a Human Heart
2013 Fritt Ord, prosjekt garnt Cruelty Has a Human Heart
Norwegian Craft, rtravel support presentation Victoria and Albert Museum,
London
Norwegian embassy in Helsinki, travelsupport, residency HIAP, Finland
2012 Nominated International Award Participatory Arts, Second Edition,
(www.arteparticipativa.it)
2012 Vederlagsfondet, 1 year working grant
UD Travel Fund for performance Ukjent, Musée Bernadotte, Pau
2010 Residency/Workshop/utstilling Medana, Slovenia
Fritt Ord project grant Desconocida Unknown Ukjent,
Art Council prosject grant Desconocida Unknown Ukjent
2009 Vederlagsfondet, 1 årig arbeidsstipend.