Borchgrevink, Hild
Hild Borchgrevink works with text in different formats, from poetry and performance to sound art and music criticism. She has studied performance and criticism at KKH/StDH in Stockholm, creative writing in Bergen and musicology and literature in Oslo. She is active as a music critic and has worked for many years as a concert organizer in the field of new music.
In my project, I aim to explore text as unfolding in time, both in sound and in writing, as well as the performative understood as a public space.
Hild Borchgrevink: Utgått utendørs, detalj (Schous plass, Oslo, 2017)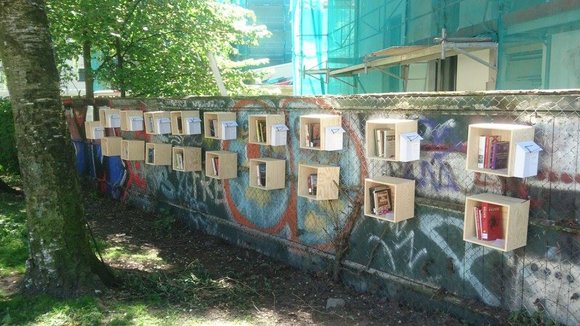 Hild Borchgrevink: Utgått utendørs (Schous plass, Oslo, 2017). 100 utgåtte bibliotekbøker, 19 hyller (én for hvert lokale bibliotek i Oslo), responskort og blyanter.
Planned projects and exhibitions
During Oslo Open I will show ongoing work for an installation based on written response from passers-by to the expired library books in my master project "Expired" (2017). I also work on a poetry collection and an opera libretto. The two texts interfere and work with history of science and nature.
CV
Hild Borchgrevink holds a master's degree in Art and public space from the Oslo Academy of the Arts. She has studied musicology and composition in Oslo, creative writing at Skrivekunstakademiet i Hordaland and the Academy of Fine Arts in Tromsø, as well as performative criticism at Uniarts in Stockholm.
In November 2017 she was among 12 invited composers / sound artists in OSL Contemporary's exhibition Lyd og bilde. In addition to her artistic practice, she works as a music critic, writer and translator, and currently has a state scholarship as a critic.