Neseblod, Grete Johanne
Textile
Along with being a visual artist, Neseblod owns Neseblod Records, a specialist shop for metal music. Located in Old-Town Oslo (Gamlebyen), the shop is a meeting place for black metal enthusiasts. Neseblod is also a mother, and it is at the intersection between these spheres of life that her art emerges. By laying hold of and mixing together stereotypes of the black-metal environment and the mother's role, she develops new models of identity at the same time as she challenges prejudice.
"There are obvious contrasts between being a mother of three children, an artist and running Neseblod Records. I recognise and understand these three cultures from both the inside and the outside, and I work to deconstruct the different roles", says Neseblod.
The artist combines forms of expression in textiles, printing and installation art.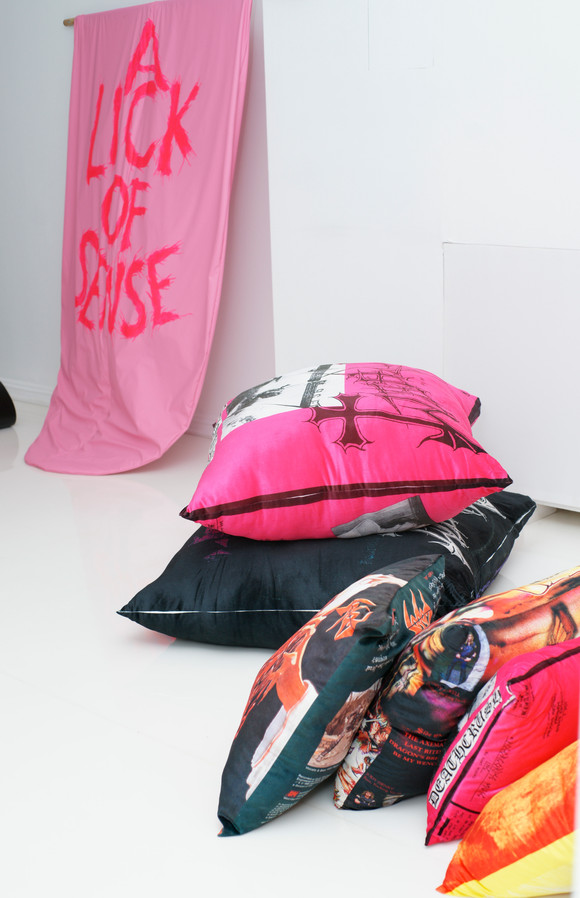 From the installation "A Lick Of Sense" at Soft galleri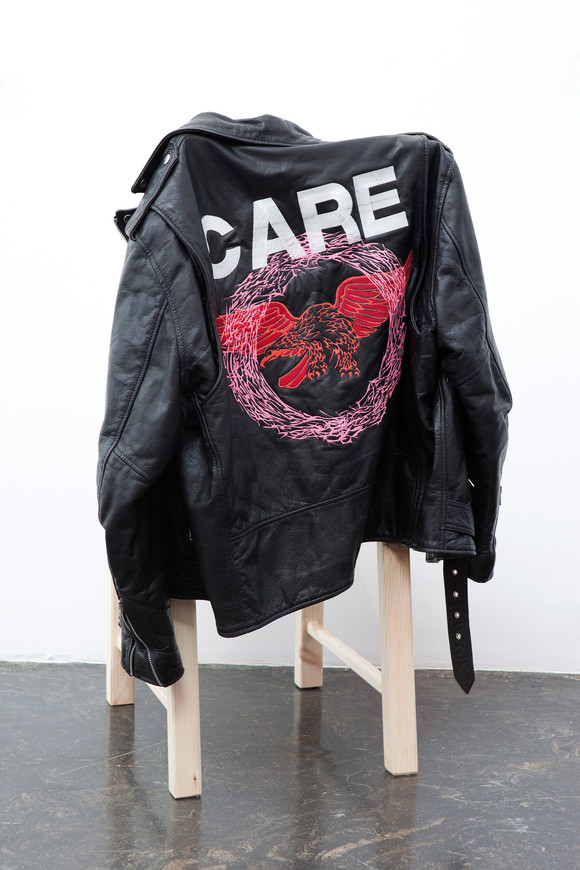 Care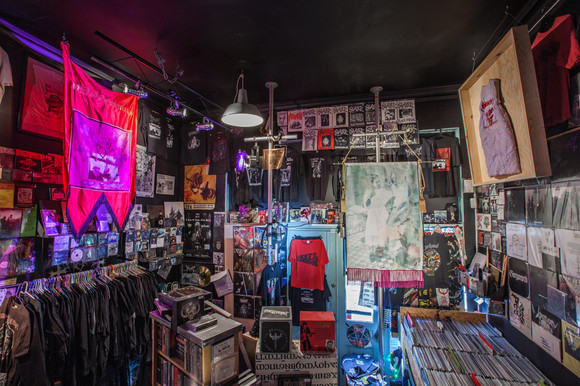 Care/Demon Entrails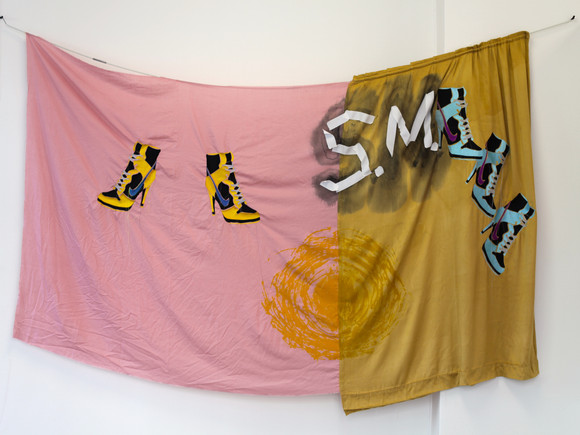 S.M.
Planned projects and exhibitions
2018
January: Onomatopee,Eindhoven/Nederland(solo)
April: Telemarksgalleriet- Lysbuen (group)
August/sept: Akershuskunstsenter (group)
CV
Exhibitions:
2018
January: Galleri Onomatopee,Eindhoven/Nederland(solo)
April: Telemarksgalleriet(group)
August/sept: Akershuskunstsenter(group)
2017
Levanger Kunstforening,Norway: (Solo) 14.1-05.2
SOFT galleri/NTK, Norway: (Solo) 11.5-11.6
Galleri Blokk, Norway, (duo), September
2016
Kunstplass 10, Norway (Solo)«Heart-Shaped Box»
2015
Art Fair Suomi- Video og tekstilarbeid
Statens Kunstutstilling, Høstutstillingen- Installasjonen «Habitiss og Labituss»
2014
Norsk billedhoggerforening «Knock knock», Video. w artistcollaboration Penetrators Statens Kunstutstilling, Høstutstillingen. -Video
Kunstplass 5«Å paradis Strategies on the Nordic Queer»,. Video/Textile.
2013
Akershus kunstsenter«It`s a girl»,. -Video
Galleri 69 Grunerløkka Lufthavn«Oslo Apartment II» , -Video, Skulpturs. w artistcollaboration: Art As Agency.
Galleri Seilduken,Norway «Oslo Apartment»,
-Video,skulptur. med kunstnergruppen Art As Agency.
2012
Avgangsutstillingen KhiO – videoperformance
2011
Galleri Seilduken, Norway:«I don´t know if they´re real or if they´re pseudo – They are moments in the dark» – Sculptur, video, photo, prints.
2010
Trondheim Projectroom, – paintings
2008
GalleriO, HiOA, Norway– paintings
2007
Galleri Impromptu – photo series

2006
DogA «Mirror», Norway – "Arts and Designs 75 years" – paintings
Other
2016 Atelier Felix,Kunstnernes Hus, Norway. "Scenes around a table" Performance by artist Linn Cecilie Ulvin w invited participators.
Fundings:
2018 Exhibition fundings
2017 Bkh 1. y scolarship,
Exhibition fundings Kulturrådet
2016 Bkh 1. y scolarship,
Exhibition fundings kulturrådet
2015 Statens Diversestipend
2011 Natt og Dag: 50 000 nkr. (for Neseblod Records)