Mack, Elin
Collage, painting, photography, graphics
In my collage work, I use typographic elements from posters and found material which makes a kind of Dadaistic poetry,. The message might be hidden or completely disappeared in the process, but text and poetry lies as the basis of the image. Over the past year I have gradually mixed painted surfaces into my work. I paint in a tradition of calligraphy which is also writing.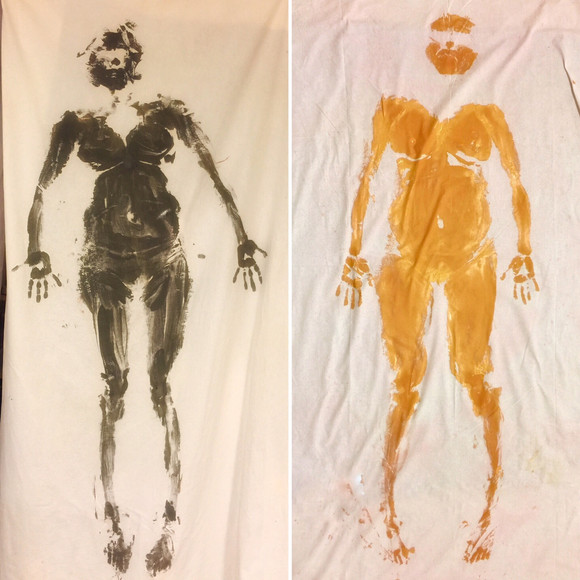 KleinT_1 Kroppstrykk 250 x 140cm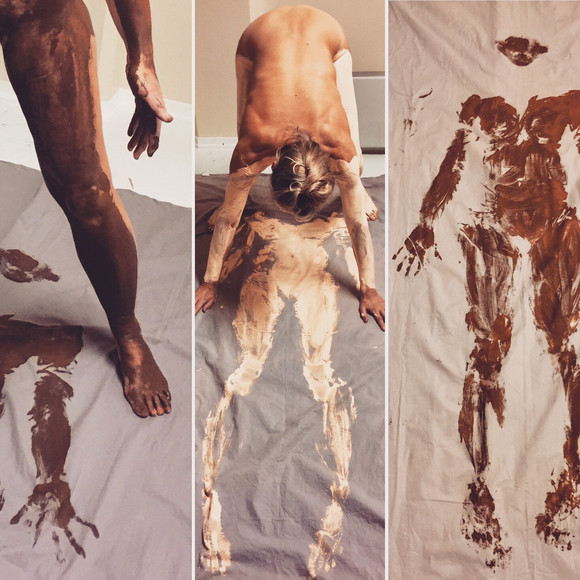 KleinT_2, bilde av prosess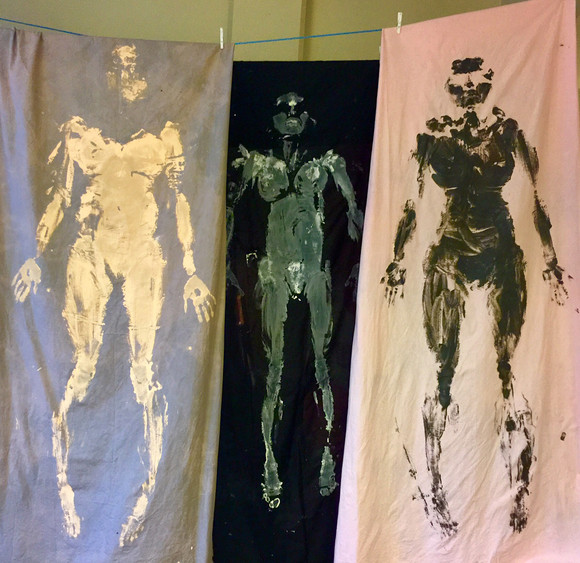 KleinT_3 Kroppstrykk 250 x 140cm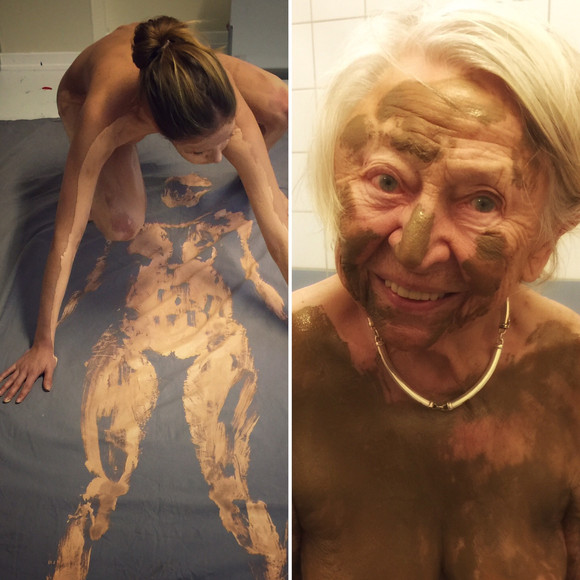 KleinT_2, bilde av prosess
Planned projects and exhibitions
Yves Klein used naked female models that were painted and dragged around the canvas while men in suits were watching. I use my own body, but many other women have also joined this project after the #metoo campaign started autumn 2017. All of them have experienced abuse or sexual harassment, including myself. This will be visible in the project, as well as the commentary on Yves Klein's famous work. The #MeToo movement has revealed how big the problem of abuse and sexual harassment of women is. I have chosen to tell my own stories this way.
I started with ultramarine like Klein, but am now using different skin colors. I´ve started printing onto bedsheets, preferably used ones. The project will be made into an installation of female bodies hanging from the ceiling next to and behind each other as an "army". I'm photographing and filming parts of the process. When the work will be displayed, this work will also be shown. There will also be a performance.
The works are 250 × 140 cm. I will be showing the installation in 2018.
CV
SOLO SHOWS
2011: "Macks manus" Smia Galleri, Oslo
2013: "Decollage" Galleri POINT, Oslo
2015: "Mack møter veggen" CYAN photogallery, Oslo
2016: "Collage og Fotografi" Galleri Laszka, Oslo
2016: "Papirminner" Galleri Il Vero, Oslo
GROUP EXHIBITIONS
2012: Gruppeutstilling Galleri A, Oslo
2013: Galleri A, Oslo 2012
Galleri Ramfjord, Oslo
Bærum Kunsthåndverk, Sandvika
2014: Galleri Ramfjord, Oslo
2015: "Exposição Internacional de Poesia Visual de Mato Grosso" Rio de Janeiro, Brasil
Galleri Ramfjord, Oslo
Galleri Rusticana, Oslo
Galleri Asbjørn, Kongsvinger
Galleri BOA, Oslo
Galleriverkstedet, Oslo
2016: "Mirages", program of the XXIV Congresso Brasileiro de Poesia (XXIV Brazilian Congress of Poetry) Brasil
"LA POESIA VISIVA IN EUROPA ", Imago Mundi, Italia
"SEA(S)" Ionion Center for the Arts and Culture, Hellas
2017: Oslo Open, Sagene
Galleri Rusticana, Oslo
Flo og fjære, De3Rom, Bærum
RESIDENCIES
2016: Hangar, Lisboa, Portugal
BOOKS
2013 Assemblage-box, Redfoxpress, Irland.
2014 "Cést-mon-dada" Elin Mack, Redfoxpress, Irland,
2015 "Collage Annual 2015", Collage Collective Co, Australia
2016 "Visual Poetry in Europe", Imago Mundi, Italia
SCHOLARSHIPS
Grafills reisestipend 2009
Grafills prosjektstipend 2002
Statens etableringsstipend (1983)
Kulturrådets utstyrsstøtte(1985)
INNKJØP / UTSMYKKING
Brooklyn Hotel, New York, USA
Hotel Radisson Blue, Minneapolis, USA
Sheraton Hotel, (The Presidential suite) Denver, USA
MEMBERSHIPS
Norske Bildende Kunstnere NBK,
Billedkunstnere Oslo Akershus BOA,
The International Society of Assemblage and Collage Artists
EDUCATION
1990: Master, Grafisk design, Oslo National Academy of the Arts (KHiO)
1986 1989 BA, Grafisk design, Oslo National Academy of the Arts (KHiO)
1973 – 1976 Diplom (BA) Keramikk, SHKS, Oslo National Academy of the Arts
1972 – 1973 Keramikk, Myndlista og Handidaskoli, Reykjavik, Island (Håndtverksfag – Fagskole/svennebrev)
1971 – 1972 Einar Granum Kunstskole
1970 – 1971 Tegne maleskole, Chantry school of Art, England (Kunst – Videregående skole)