Jordheim, Cecilie Bjørgås
Sound, concrete poetry, performance
Through installations, visual scores and concrete poetry, Jordheim's work springs from an interdisiplinary agenda; between genres, fields of art and medium. Jordheim thematises the human need for systematisation and questions if there a direct connection between language and the world; topography, typography, text, architecture and sound/music. The scores are often frame work for a collaboration with musicians, where the outcome is in the translation between the visual and the musical improvisation.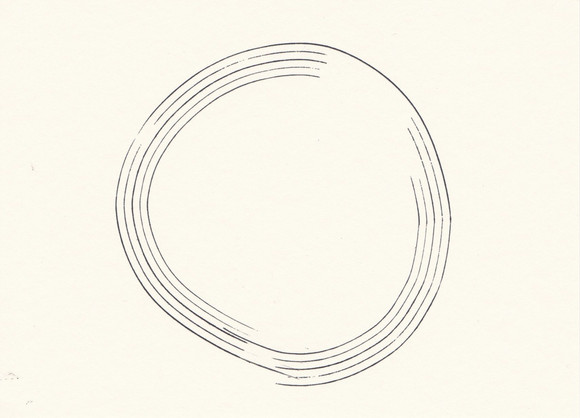 Cecilie Bjørgås Jordheim, Ensō/Rondo (2017), blekk på papir, 10x15cm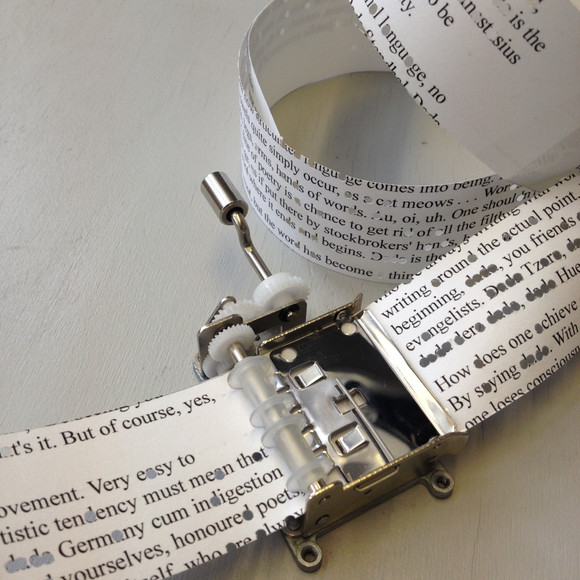 Cecilie Bjørgås Jordheim, Dada Manifesto (2016), tekst på papirstrimmel og spilledåse, Installasjonsdetalj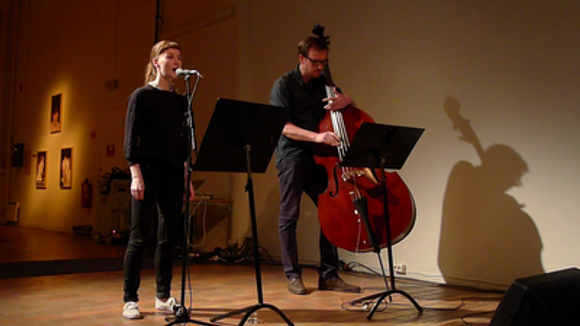 Cecilie Bjørgås Jordheim, Fremvisning av First Of All There Is Blue (2012), Black Box Teater. Framført av Stine Janvin Motland (sang) og Per Zanussi (kontrabass)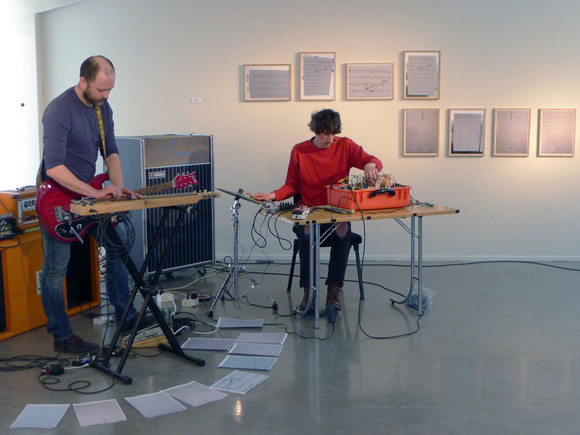 Cecilie Bjørgås Jordheim, Fremvisning av REMAKE: Graffiti Compositions på Kunstmuseet Nord-Trøndelag (2015). Framført av Eirik Øien (gitarer) og Martin Langlie (perkusjon)
Planned projects and exhibitions
Spring 2018:
1. New sound piece on "The Sound Of a, A Novel". Slated for release spring 2018 from ZEON LIGHT (Malmö, Sweden) on cassette.
2. Ensō/Rondo: publication initiated by Timglaset (Malmö, Sweden)
3. Participation in Kobitadihi – India's first international Visual Text Art Anthology, (Dehli, India)
4. Participation in the symposium KANADA KONCRETE: –Verbi-voco-visual Poetries in the 21st Century, May 4th – 6th, 2018 (Ottawa, Canada)
5. Ferdigstillelse av prosjektet Black Walnut Grove (Kemptville, Canada)
CV
BIOGRAPHY
Cecilie Bjørgås Jordheim (b. 1981, Norway)
Education
2009 – 2011 Oslo National Academy of the Arts (MA Fine Arts), Oslo, Norway
2007 Willem de Kooning Academie, Fine Art, Rotterdam, Netherland
2005- 2008 Bergen National Academy of the Arts, Dept. Fine Arts, Bergen, Norway
2003- 2005 Nordland Art- And Film School, Kabelvåg, Norway
Upcoming
2017
Exhibiting and participation in symposium: KANADA KONCRETE (May 4th-6th 2018), Ottawa, Canada
Publication Ensō/Rondo initiated by Timglaset, Malmö, Sweden
New sound piece on "The Sound Of a, A Novel". Slated for release spring 2018 from ZEON LIGHT (Malmö, Sweden) on cassette.
Black Walnut Grove , Kemptville, Canada
Participation in a world anthology in visual poetry curated by Phillip Davenport and Karl Kempton, India
Solo shows
2015 All the world's a stave, Art Museum Nord-Trøndelag, Namsos, Norway
2010 NAUSEA, Galleri 21:24, Oslo, Norway
2009 Polarstar, Rom 8, Bergen, Norway
Group shows / Publications (selection)
2017
Performance, Malmö Konsthall, Malmö, Sweden
2016
Sound Of A Cage Triennale, Stavanger, Norway
para· text #2, IKLECTIK art lab, London, UK
The Unbearable Contact With Poets, If P then Q, Manchester, UK
Raume für Notizen, Anthology, Vienna, Austria
VISPO, Coldfront Magazine (www), New York, USA
Collaborative soundproject: (SHMF-019+…), Flensburg, Germany
2015
Publication i The New Concrete, Southbank Centre, London, UK
TOTAL RECALL, Bury Art Museum, Bury, UK
Work published i RAD#7, Bergen, Norway
2014
Raume für notizen, Alte Scmhiede , Vienna, Austria
Galerie Wechselstrom, Vienna, Austria
2013
Oslo Poesifilm, Kunstnernes Hus, Oslo, Norway
Alpineum Produzentengalerie, Luzern, Switzerland
Annual State Art Exhibition 2013, Oslo, Norway
2012
a global visuage -Visual Poetry Anthology
(curators: Jörg Piringer/Günter Vallaster), Graz /Vienna, Austria
Publication for no press, Alberta, Calgary, Canada
Winter Solstice, Atelier Nord, Oslo, Norway
Conseptualisms Dossier, Matrix Magazine, Montreal, Canada
Local Colour: Ghosts, In Edit Mode Press, Malmö, Sweden
Performance Ghosts, , Black Box Teater, Oslo, Norway
One Night Only, UKS, Oslo, Norway
2008
Art Made Me Do It, BA show, Bergen, Norway
Namsos Art Society , Namsos, Norway
2006
Oslo Art Festival, Oslo, Norway
Art Museum Nord-Trøndelag, Namsos, Norway
Filmfestivals / screenings (selection)
2015
Launch for THE NEW CONCRETE, Whitechapel Gallery, London, UK
2013
no.w.here lab, London, UK
2010
ATA Film and Video Festival, San Fransisco, USA
2009
NORWAY!, Worm (self-curated), Rotterdam, The Netherlands
Incubate,Tillburg, The Netherlands
2008
700IS, Reykjavik, Iceland
2007
ok.video militia, Jakarta, Indonesia
2006
Laznia Center of Contemporary Art, Gdansk, Poland
Galleri Experimentalniprostor Nod, Praha, Czech Republic
Eleven, The Space/The Tobacco Factory, London/Bristol, UK
2004
Minimalen Kortfilmfestival, Trondheim/Norway
Grants etc. (selection)
2017
One-year work grant Billedkunstnernes Vederlagsfond
2016
Nord-Trøndelag County Art grant
2015
Project grant from Fond for Lyd og Bilde and The Norwegian Arts Council, One-year work grant from Billedkunstnernes Vederlagsfond
2013
Project grant BKV and Språkåret 2013, Oslo Muncipality establishing grant, One-year work grant from Billedkunstnernes Vederlagsfond
2012
One-year work grant Billedkunstnernes Vederlagsfond, Norwegian Visual Artists Association; project grant, Office Of Contemporary Art (OCA) travel gran
2008
KHiB Kunstakademiets studio grant, USF Verftet, Norwegian Arts Council; Art And New Technology, Norwegian Arts Council; project grant, Bergen Municipality; project grant, National State Exhibition grant, Hordaland County, Billedkunstnernes Vederlagsfond