Hofset, Inga Sund
Maleri (skulptur, installasjon, tegning, tekst)
I investigate the relationship between representation and experience; my work is based on Living life. Figuration, colours and words serves as hints about experiences the image could connect to; but during the process, the non-figurative and formal investigations takes over. Through this process I might find form to sensations which, by different reasons, are hidden or escapes the rational mind or words.
The experiencing body is an important issue in my work. The movements we make in relation to the artwork in space is an aspect I much concider, for example in the choice of format and in the installation. This interest also influences the actual painting process.
I play the game of coincidence, intention and expectation, in the paintings as well as in the installation in space. I find it both humorous and absolutely crucial to keep decisions and details one could easily oversee or consider accidental, but which could be experienced subtly, suddenly or over time. I want these to work together with larger and more insisting gests.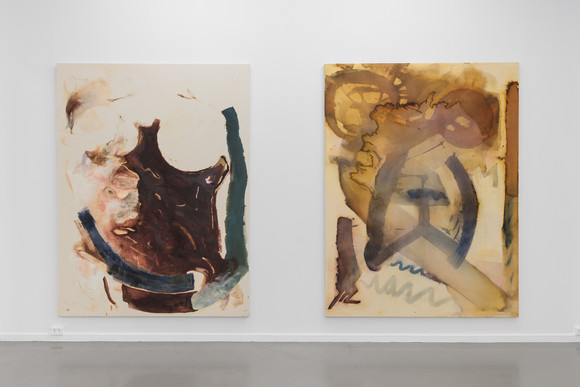 Av å være ansikter (2017)
CV
Utdanning:
2014 – 2016 Kunstakademiet i Oslo, Master i Billedkunst
2007 – 2011 Kunstakademiet i Oslo, Bachelor i Billedkunst
2005 – 2007 Strykejernet kunstskole
2003 – 2005 Div.enkeltemner: Ex.phil, ex.fac., litteraturvitenskap og kunsthistorie. NTNU
Separatutstillinger:
2017 "Av å være ansikter", Akershus Kunstsenter, Lillestrøm
2017 "Shifts", Kvit galleri, København
2015 "Contour Cut", Kunsthøgskolen i Oslo
2014 "Kunst på Hove", Hovefestivalen
2013 "Månedens bilde" november, Oslo S. (UKS / Rom for Kunst)
2012 "Ligninger for en fallende kropp / Vi roper mot hverandre" Holodeck, Oslo
2010 Kunsthøgskolen i Oslo
2010 One Night Only Gallery, Oslo
Gruppeutstillinger o.l:
2017 Gruppepresentasjon, prosjektrommet Altan, Vestfossen
2017 "Kleingeld", Rolando Anselmi, Berlin
2017 "Unge, inviterte", LNM, Oslo
2016 "En kollektiv psyko-geografisk guide til Oslo" uavhengig utstilling under Tegnebiennalen
2016 "Chanting, all clamoring, (…) med Christian Norum, Grafikksalen, Munchmuseet, Oslo
2016 "PAINTERS" kuratert av Ane Hjort Guttu for 1857 på Paris Internationale, Paris
2016 "Siste Skrik" Performance av Helle Siljeholm. Ibsenfestivalen, Nasjonalteateret, Oslo
2016 "Ora or Labora" Avgangsutstilling MFA Kunstakademiet, Kunstnernes Hus, Oslo
2015 Åpningsutstilling KVIT galleri, København
2015 Sommerakademie Salzburg, Østerrike.
2015 "Menneskeberget", Munchs atelier på Ekely, Oslo
2013 "Å Komme Hjem", Hønefoss
2013 Summer Dolldrums, Kunsthall Oslo
2012- 2014 Gruppeutstilling, Ringerike Rådhus
2011 "That's entertainment!" Atelier Nord på Kortfilmfestivalen i Grimstad
2011 "Så nære vi var" (med Ragna Bley). Galleri Podium, Oslo
2011 "The Strange Fête" Avgangsutstilling Bachelor. MFAPS, Oslo
Utsmykning:
2017/18 Høgskolen i Østfold
Kuratorvirksomhet, initiativ o.l:
2016 "Kunstnerfrokost med parolelaging på arbeidernes dag", med UKS og Khartoum Contemporary, Oslo
2014 "Ethopoeia" et portabelt visningsrom, Oslo.
2013 "Å komme hjem", gruppeutstilling med 14 unge kunstnere, Hønefoss (sammen med Live Hilton)
Verv, relevant erfaring o.l:
2015-16 Studentrepresentant i innstillingsutvalget, Kunstakademiet i Oslo
2013 Hønefoss videregående, plakat-workshop
2013 Søkekurs Kunstskolen i Asker
2010 Studentrepresentant i opptakskomiteen til bachelor i billedkunst
2009, 2010 Årbokomiteen for Kunstakademiet: Freie Klasse, arrangør av "Sell Out" utstilling på UKS
Kunstneropphold o.l:
2015 Salzburg International Academy of Fine Arts, Østerrike
2013 Summer residency, Kunsthall Oslo
Bibliografi og publikasjoner:
2017 Kuba Paris.com om Altan Vestfossen
2017 Art Viewer.com (Rolando Anselmi)
2017 "Selvportrettet", Klassekampen 14.02.17
2016 "Selected works from Paris Internationale", Art Viewer
2016 "Så mye sensualitet", kunstkritikk.no 07.06.16
2016 "Langt mellom høydepunktene på årets masterutstilling", Aftenposten 06.06.2016
2014 "Kunst på festival", Kunstforum
2014 "Reisebrev fra Hove", B-post
2013 "Oslo Rapport" Frieze Art Magazine April 2013
2013 "Hofset/Baldessari/LeWitt" Paragone. Kunsthistorisk tidsskrift av studenter ved Uio 2011
"THE STRANGE FETE (END)" Le Grande Meulnes / BA avgang Khio
2010 "Min kamp (22 ansikter)" Glemmeboka forlag, workshop med One Star Press/ Khio
Stipender og økonomisk støtte:
2017 2-årig Arbeidsstipend for kunstnere i etableringsfasen, Norsk kulturråd
2017 Utstillingsstøtte for kunstnere i etableringsfasen, Norsk Kulturråd
2016 Statens utstillingsstipend
2016 BKH studentstipend
2014 Diversestipend, Norsk Kulturråd
2013 Prosjektstøtte, Billedkunstnernes Vederlagsfond
2013 Kommunale og private sponsorer til utstillingen "Å komme hjem" , Ringerike.
2011 Statens diversestipend basert på gjennomført utdanning