Fyrand, Erikka
Painting
My paintings are metaphysical, expressive images made in a time based moment. I perform the images and use only the hands and oil paint. The works relate to the body and are imprints of emotions and abstract feelings. I try to materialize and indefinable feeling. The painting is in thick layers and are attractive with their creamlike looks. The works are intended to contain or envelope the viewer in an intimate and human way trying to give a possibility to be within the picture. I am also searching for a sublime expression especially in the big canvases as excerpts of a larger possible reality. What is real what is true? I imprint and leave it to the world letting the works stay as a true expression of what I am and what I feel in the moment. Like pages in a diary or blank sheets of paper filled with colour and movements instead of words.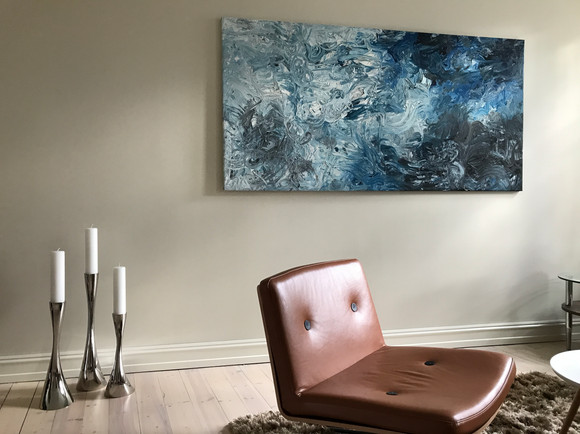 Erikka Fyrand. Human touch, 2017. Oil on canvas, 100 x 200 cm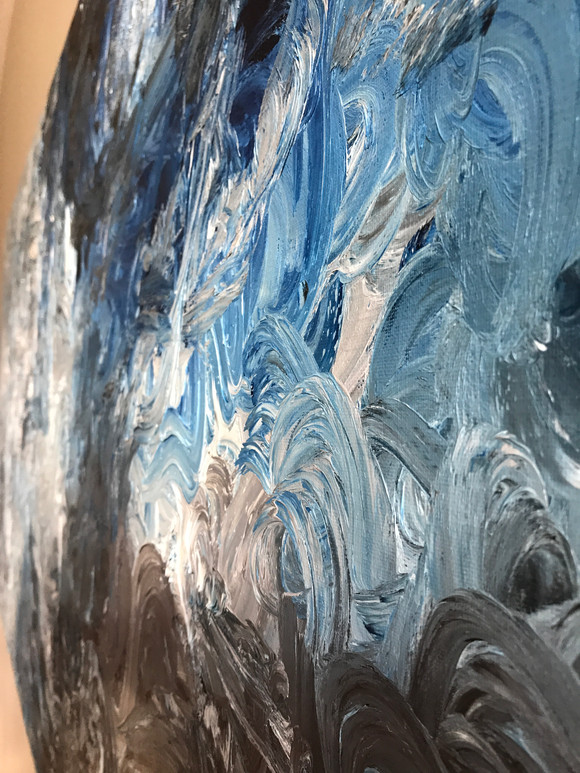 Erikka Fyrand. Human touch, 2017. Detail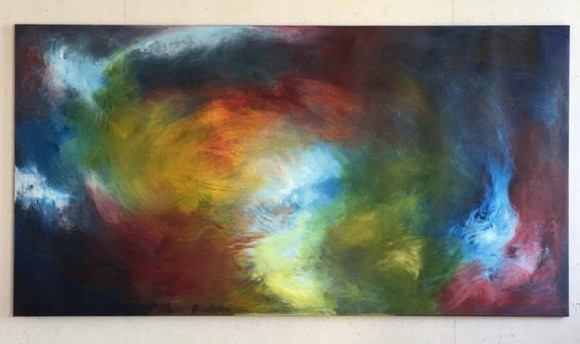 Erikka Fyrand. Human touch, 2017. Oil on canvas, 105 x 200 cm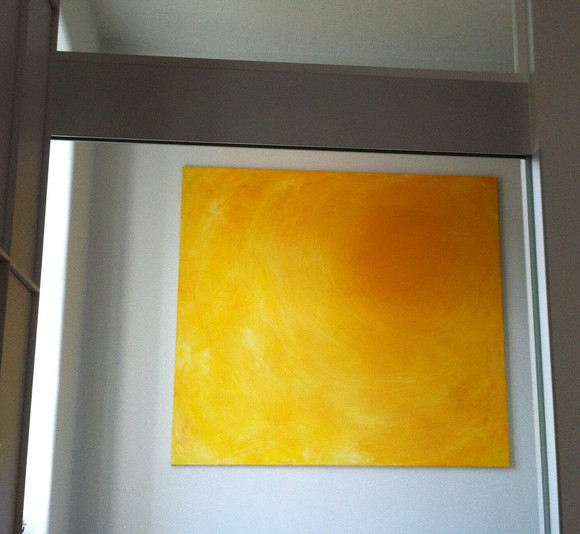 Erikka Fyrand. The Sun, 2011. Oil on canvas, 200 x 180 cm
CV
Born 19th April 1972 in Drammen, Norway
Education
2017-2018 Culture Management, HiOA
1996-2001 Master in Visual Arts at the Oslo National Academy of the Arts.
1995 CAP Jewellery, Marseille, France
1993-1994 Preparatory classes at Art Deco, Avignon, France
Solo and group exhibitions
07.2016 350 Mysteries, Brusfabrikken, Kragerø
04.2016 Human touch, Prosjekt Ekely, Oslo.
11.2015-01.2016 A Journee to Nutheim,Galleri Nutheim, Flatdal, Norway
09.2015 Høstutstillingen 900 moh, groupshow, Galleri Beito, Beitostølen
07.2015 Porten – en tilstand, groupshow, Brusfabrikken, Øya, Kragerø
07.2014 Himmelen på jorden, groupshow, Brusfabrikken, Øya, Kragerø
04.2014 Resurrection, soloshow, Galleri Infill, Oslo
07.2013 En ny soloppgang, groupshow, Brusfabrikken Kragerø
09.2012 La Vida, temporarily exhibition, Drammen.
07.2012 Bobler til folket, groupshow in Kragerø, Norway
01.2012 Groupshow at Galleri Monte Carlo, Oslo.
06.2011 stedet du går inn når du går ut Groupshow at Central hotel, Kragerø
04.2011 jeg elsker deg (i love you) , soloshow, Podium, Oslo
07.2010 Seilet, groupshow at Kvenvær, Hitra. Initiated by Galleri 7011, Trondheim.
06.2010 Salon 2010, groupshow. Curated by Javier Barrios, Tara Rolfsen and Oda Broch. Oslo.
10.2000 I don't care if you lie just say you love me, Galleri 21:25 Vestbanen, Oslo
01.2000 and will you still love me after this?, installation and performance at Galleri 21:24, Vestbanen Oslo.
09.1999 I Believe in Love, outdoors installation, Kunstnernes Hus, Oslo.
11.1998 Traffic light 2, Kunsthall Postmodern, Lillehammer, Norway.
Performances
03.2002 Remake" of Yoko Ono's performance "Cut Piece"in occasion of the exhibition "Passenger – the viewer as participant" at the Astrup Fearnley Museum of Modern Art, Oslo.
09.2001 Pilgrim Mussels from the International Embassy Kunstnernes Hus, Oslo. With Paivi Laakso and Sissel Bergh. Repeated at 2 other occasions in Oslo.
08.2001 Outdoors performance during "City Reflections" by Louise Nippierd at Aker brygge, Oslo.
01.2001 Performance. Graduate show, Seilduken, Oslo.
12.2000-01.2001 Self promotion with Marianne Zamecznik as a part of the group show "Space invader", Färgfabriken, Stockholm. Curated by Power Ekroth. Repeated at several other openings in Stockholm.
09-10.2001 Self promotion with Marianne Zamecznik at several gallery openings in Oslo.
Grants
2010 Billedkunstnernes Vederlagsfonds projectsupport, NBK, Oslo
Selected bibiografi
2014 Gunnar Danbolt/Samlaget "Frå modernisme til det kontemporære. Tendenser i norsk samtidskunst etter 1990". s 306-307. ISBN: 9788252179446
Employments
09-11.2016 Curator assistant, Munch Museum Oslo
10.2014-04.2015 Curator assistant Kari J. Brandtzæg, The Shadow of War. Political Art in Norway 1914-2014. Kunstnernes Hus, Oslo. Awarded The Norwegian Critic Award 2015.
O8.2006- 01.2011 Senior Coordinator, Office for Contemporary Art Norway, Oslo
08.2005-07.2006 Coordinator Kunstnernes Hus, Oslo
01.2004-07.2005 Project assistant "Kiss the Frog!", National museum of Art, Architecture and Design, Oslo.
03.2001-01.2004 Gallery assistant, Galleri Wang, Oslo