Nicolaisen, Terje
All media
I relate to an artistic expression or tradition for a limited period of time, and then move on to a seemingly completely different expression. This activity is characterised both by my will to become engaged and pulled along by events in the the artworld and artistic strategies and by a desire to retain the outsider; for distanced observation. My artistic practice constitutes a dérive, where the city is exchanged for the art. Movement and experimentation is the basis for my methodology and stands in contrast to the linear development of a personal project that constitutes the norm in art.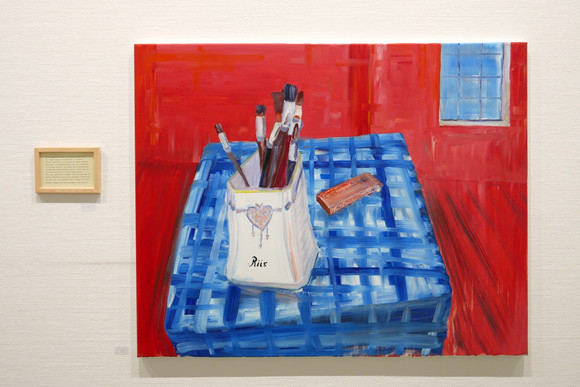 Stilleben (Riis)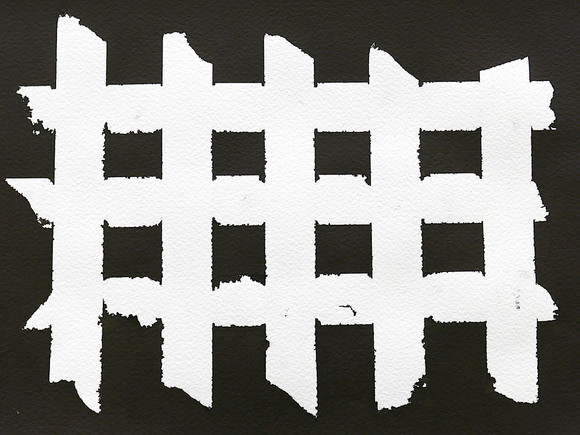 Untitled (Tapegrid)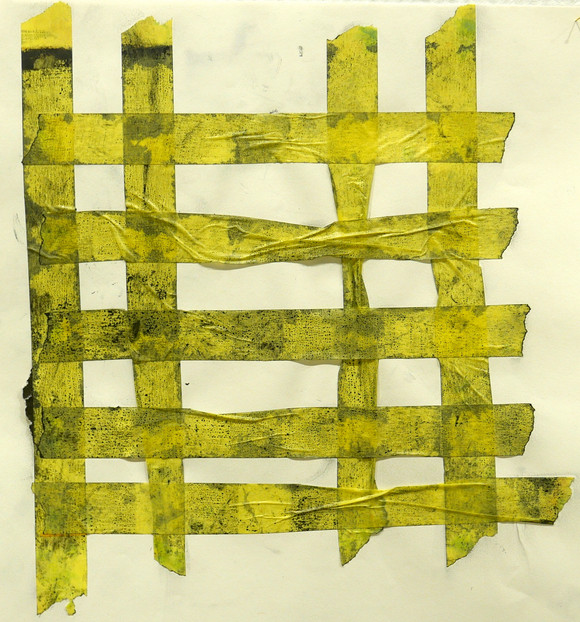 Untitled (Gridtape)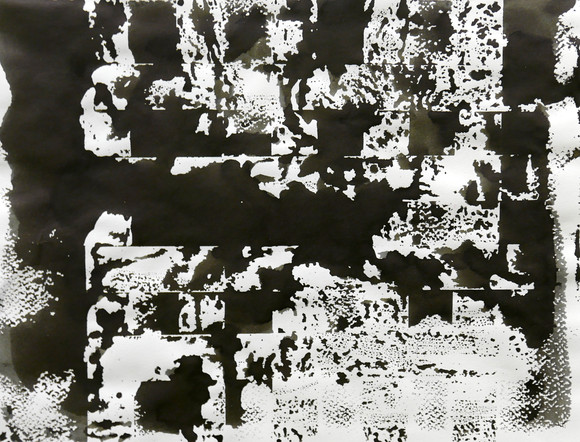 Untitled (Accidental Grid)
Planned projects and exhibitions
Trondheim Kunstmuseum Gråmølna (with Tegneklubben)
Kunstgarasjen, Bergen (with Tegneklubben)
Tegnerforbundet, Oslo (with Tegneklubben)
Festspela i HeidaL
Bookrelease 2018
CV
CV Terje Nicolaisen (1964) Live and works in Oslo
Separatutstillinger/ Soloshows:
2016 Kunstnerforbundet, Oslo
2015 LYNX, Oslo
2014 Tegnerforbundet, Oslo
2012 Tidens Krav, Oslo
2011 Henie Onstad Kunstsenter
2011 Kunstnerforbundet, Oslo
2010 Kunsthall Oslo, Oslo
2010 Tromsø Kunstforening, Tromsø
2008 Galleri Riis, Oslo
2006 Kunsthall Bergen No.5, Bergen
2006 Sound of MU, Oslo
2005 Ski Kunstforening, Ski
2004 IKM – International Museum, Oslo
2001 Tegnerforbundet, Oslo
2001 Kunsthall Bergen No.5, Bergen
2000 Gallery Aoyama, Tokyo
2000 By The Way Gallery, Bergen
1998 Galleri Otto Plonk, Bergen
1996 Galleri I-Box, Trondheim
Gruppeutstillinger/ Group (if TK with Tegneklubben)
2018 Trondheim Kunstmuseum Gråmølna, TK
2018 Kunstgarasjen, Bergen, TK
2018 Tegnerforbundet, Oslo, TK
2018 Festspela i Heidal
2017 Nordiske Relasjoner, Bomuldsfabriken Kunsthall, Arendal
2017 Madchenkammer, Berlin, TK
2016 Tegnebiennalen 2016, En Psykogeografisk Guide til Oslo (TK)
2016 Akershus Kunstnersenter, Drawing For Freedom, Lillestrøm
2016 Nyt Kapitel, Svends Bibliotek, København
2015 Hotel De Ville, Drawing for Freedom, Paris
2015 Harstad Kulturhus, Kulturrådet 75 år, Harstad (TK)
2015 Spring Depot, Tenthouse, Oslo
2015 Nasjonalmuseet, Vinylens Tilbakekomst, Oslo
2014 Kode Samtid, Kode Kunstmuseum, Bergen
2014 Kristiansand Kunsthall, Game of Life II
2013 KINO KINO, Sandnes (TK)
2013 Kurant Visningsrom, Grey Gorges Cast No Shadow, Tromsø
2012 Nasjonalmuseet, I WishThis Was A Song, Oslo
2012 Cirrus Gallery, Pacific Standard Time, Los Angeles
2012 Delikatessenhaus, Leipzig (TK)
2012 Kunstnerforbundet, Oslo, Kabinett
2011 Starving Artist Super Star, Archive Books, Berlin
2011 NoSpace, 18thStreet Art Centre, Los Angeles
2011 No-sphere. Norway In NYC, New York
2011 Kunsthall Oslo, SQUID (Parallellaksjonen), Oslo
Gruppeutstillinger/ Group cont.
2011 No-sphere, New York (TK)
2010 Grimm Museum, Berlin (TK)
2010 Haugar Vestfold, Clusters Re-mix 2010, Tønsberg
2010 Momentum Kunsthall, Tegnebiennalen 2010 Moss
2010 MOLAF – Museum of Longing and Failure, Bergen
2010 Schweigaardsgate 33, Siste Produksjon, Oslo
2009 OCA The Mind of This Death is Unrelentingly Awake
2009 Botkyrka Konsthall, Stockholm, Labyrinth09
2009 Planka i Tromsø #1, Tromsø
2009 UKS, Young Artist Society, (TK)
2009 Podium, The Living Dead, (TK)
2009 Tegnerforbundet, Kunstnerboken
2008 TEGNERFORBUNDET, Oslo (TK)
2008 VOSS KUNSTLAG, Portraits
2008 PROJEKT 0047, Rykk Tilbake Til Start
2007 Skaane Konstforening, Malmö (TK)
2007 Gallery 54, Göteborg (TK)
2006 Vigeland Museum, Skulpturbiennalen 2006
2006 National Museum of Art, New Aquisitions
2006 Fotogalleriet, Oslo BOKAKTIG
2006 Salo Art Museum, Halikonlahti Finland Green Art
2006 Stenersen Museum, Tegnebiennalen 2006
2006 Scandinavian Spastic, Sjokoladefabrikken, Oslo
2005 Projekt 0047 Berlin, Stilleben/Rakett
2005 Bergen Kunsthall, The Drawing Club (TK)
2005 Ringnes Festival 2005, Skotbu
2004 Momentum 3rd International Art Festival, Moss
2004 Tromsø Kunstforening, Kunst til folket
2004 Bomuldsfabrikken Kunsthall, Arendal
2003 Maniege Center for Contemporary Art, St.Petersburg
2003 Kunst i Nordland, w/ Markus Renvall, Hemnesberget
2003 Kunstnernes Hus, Kunst Til Folket
2003 Vestfold Haugar, Skulptur Biennalen 2003, Tønsberg
2002 Lillehammer Kunstmuseum, SkulpturBiennale 2001
2002 Drammen Museum, Norsk Slackertegning, Drammen
2001 Stenersen Museum, Skulpturbiennalen 2001
2000 Galeria U JezuitÛw, Poznan, Polen
2000 Helsinki Environmental Art Project, HEART, Helsingfors
1998 Museet for Samtidkunst, Oslo, Frie Kunster
1996 Arendal Kunstforening, Arendal
1995 Galleri Otto Plonk, Bergen
Continiues..
Education
1996-97 Kunsthøyskolen i Bergen KHIB – Academy of Fine Art,
1996 KHIB – Institute for Photography
1993-96 NTNU KIT Trondheim – Kunstkademiet
Projects!
2016 Vinyl LP "1974" released by Safe & Sound Recordings
2016 Releasekonsert for LP 1974, Ingensteds Oslo
2014 Kurator for Tegnebiennalen 2014, med Will Bradley and Elisabeth Byre
2014 Utsmykking av Embedsboligen i Roma 2014, Norsk Sokkel
2014 Solokonseert på Høvikodden Live, Henie Onstad Kunstsenter, 27/04
2012 Vinyl LP «Terje Nicolaisen" release by Tidens Krav, Oslo
2012 Releasekonsert for «Terje Nicolaisen» at Tidens Krav, Oslo, 12/12
2010 Snowball Editions 2010 Multiple released in September.
2010 Dramatikkens Hus, 2010 3 performancer Kurt Johannesen & Terje Nicolaisen
2001- Norsk Sokkel Award 2001 / 2002 / 2005 / 2007 / 2011
2005 Oilcompanies Suck (2005) Øl-etikett for Cathrine Evelid Artist Beer Project
2004 Tegneklubben (2004 – ) With Martin Skauen, Bjørn Bjarre, Paul Dring, Ulf Carlsson and Terje Nicolaisen
2004 SKA TV Art Awards (2004) Jury og research w/ Ivan Galuzin
and Christian Bould, UKS
2003 OCA Low Budget Discursive Furniture Competion 2003 Med Ulf Carlsson
2002 NORSK NÆRVÆRSFORMIDLING , Curator for UKS exhibition With Morgan Schagerberg, Ane Hjort Guttu, Jenny Magnusson, Gardar Eide
Einarsson, Anna Maria Sigmond Gudmundsdottir, Ole Martin Lund Bø,
Siri Hermansen, Trine Lise Nedreaas og Åsil Bøthun
2001 Something Rotten in the State of Norway , Guest-editor at
UKS-forum for samtidskunst. Tekster av Siri Meyer, Erling Dokk Holm, Anne Brit Gran, Thomas Hylland-Eriksen, Nina Witozeck, Runar Døving, Erik S Reinert, Staffan Schmidt, Joar Tranøy og Morten A Strøksnes
Continiues..
Stipend
2016 Ingrid Lindbäck Langaards Stiftelse
2016 Ingerid,Synnøve & Elias Fegersten
2014 Ingrid Lindbäck Langaards Stiftelse
2012 Ingrid Lindbäck Langaards Stiftelse
2012 Ingerid,Synnøve & Elias Fegersten
2011 Statens Garantiintekt
2009 Royal Caribbean Arts Grant
2008 Statens 3-årige Arbeidsstipend
2007 Bildende Kunstneres Hjelpefond
2006 Ingerid,Synnøve & Elias Fegersten
2006 Billedkunstnernes Vederlagsfond
2005 Ambrosius Egedius og Hustrus legat
2004 Billedkunstnernes Vederlagsfond
2003 Billedkunstnernes Vederlagsfond
2002 Billedkunstnernes Vederlagsfond
2002 Ingerid,Synnøve & Elias Fegersten
2000 Sasakawa Foundation
1998 Ingerid,Synnøve & Elias Fegersten
1998 Bergen Kommunes Etableringstipend
1997 Statens etableringsstipend
Collections:
Norwegian Embassy in Rome – Foreign Ministry/ KORO
Nordea Art Collection
National Museum of Art- Museum for Contemporary Art
National Museum of Art- Older and Graphic Arts
National Museum of Art- Museum of Applied Arts
Bergen Museum of Art
Drammens Museum of Art
Radisson SAS Oslo Plaza Hotel
Recidency
2013 KW17 – Recidency at Kunstnernes Hus (TK)
2011 18th Street Art Center Los Angeles, USA
2006 OCA – Berlin Mitte Recidency, Germany