(Marius Presterud), Oslo Apiary & Aviary
performance, ecoventions, props and sculptural documentation
Oslo Apiary & Aviary (a play of words on "the birds and the bees") has existed since 2013 when it evolved from Marius Presterud (b. 1980) and Mikkel Dagestad´s (b. 1990) shared interest in work æsthetics and immersed observation of the systems of exchange that make up every-day city life.
We work in the overlap between art and urban husbandry, specializing on non-representational performance and eco-ventions. By mimicking contemporary ecological service providers, we draw on strategies traditionally associated with the double-rolled artist, as well as animals of prey's use of camouflage. The strategy resonates with the pressure from the current government on artists to be marked-oriented entrepreneurs, legitimizing an inspection what kind of art this role condones.
A consistent line running through our work is a focus on the performative qualities of the separation of urbanity-nature and the private-public domain: By reintroducing plants, birds and insects in the city, we raise the question of what species belong where. By subjugating ourselves to urban husbandry, we explore the range of our own cross-species tolerance as alienated city dwellers. Through our embedded practice we try to get a sense of the city's ontology, how the post-sustainable city is constituted and can/can´t be reconstituted.
Our studio is located in an abandoned boiler-room the top of Kunstnernes Hus, down-town Oslo, while our original farm from 2012 has been assimilated into the city development project Losæter, by invitation of Future Farmers (San Francisco). In 2015, one of our pollination-stations served in the installation "City Meadow" (Transformer#5) at ROM for Kunst og Arkitektur. In June 2016, we expanded to the rooftop of Henie Onstad Artcenter, Bærum, and Gallery F15, Moss. During Oslo Open 2017, we will be planting trees on the roof of Kunsternes Hus.
In 2015-2016, Oslo Apiary & Aviary were financed with support from the Norwegian Art Council and the charity bank, Cultura.
In 2017 Oslo Apiary & Aviary is part financed with support from the Norwegian Art Council, the Nordic Culture Fund and Office of Contemporary Art.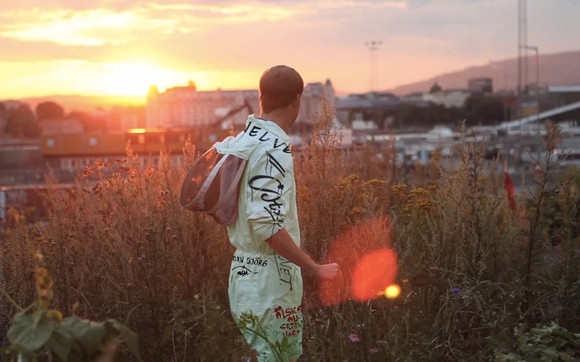 IF THESE WALLS COULD WALK, WHERE WOULD THEY STRAY, 21 Aug 2015, Losæter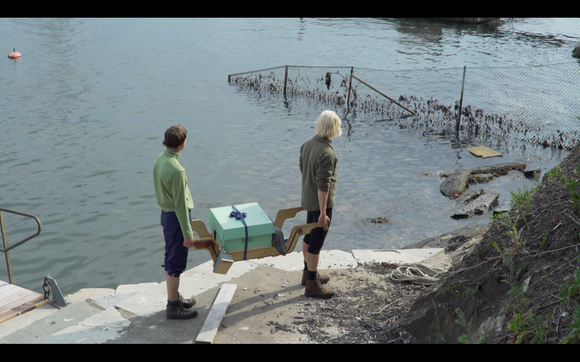 TRACING THE FJORD, 7-9 Juni 2016, Losæter-Henie Onstad Kunstsenter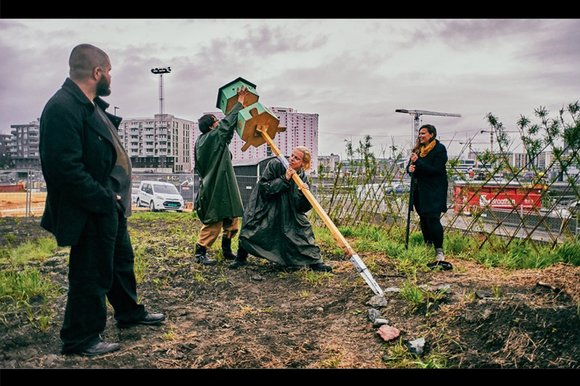 SMOKER SEANSE, 1 Okt 2016 , Galleri F15, Moss Foto: Galleri F15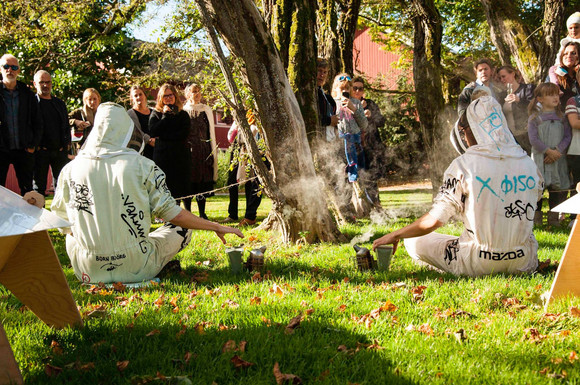 THE SHEPARD, performance for UP INTO THE SKY DOWN (IN)TO THE EARTH Sept 2016, Losæter, Oslo
Planned projects and exhibitions
Upcoming
ANGER IN, PAPILLON (poetry performance, sculptural installation, raffle), Broken Dimanche Press, Berlin, winter 2017.
NORTHERN BUMBLINGS: MULTI-SPECIES LIVING IN THE COLD (book), a collab with Erik Sjödin (SE) and Thomas Pausz (IL), spring 2018.
HIBERNACULUM (ecovention), Oslo Utmark, summer 2018.
TRACING THE FJORD (clips), for Conglomerate TV, Gallery Kinderhook-Caracas, Berlin, TBA
CV
SHOWINGS
PEARL DIVING, Part 1, 7 Oct, 2017, Gallery Field of Dreams, Oslo
TRACING THE FJORD (film), Sept-October, 2017, Retten til Byen, Losæter, Oslo
NORTHERN BUMBLING, and panel debate and presentation of work in progress, 4 Aug, 2017, Losæter Bakehouse, Oslo
Ditto, 29 July, 2017, Slakthusatelierna, Stockholm
Ditto, June 27, 2017, The Nordic House, Reykjavik
DEFENSE COURSE IN BAKING (sculpture workshop), 14 June 2017, Losæter (NO), for Vandaler Forenings (NO) Human Scarecrows 2.0
LEVERAGE FOR LEAFAGE (textile sculptures), 13 June 2017, Losæter (NO), for Futurefarmers Bread Kneads Hands 2 (SF)
SUN DECK (performance), upcoming, 12 June 2017, Losæter (NO), for for Futurefarmers Bread Kneads Hands 2 (SF)
COMMON PROSPECTS (exhibition, performance), 11 February, 2017, Losæter (NO), for Futurefarmers Full Moon Gathering (SF)
SMOKER SEANSE, 1 Okt 2016 , Galleri F15, Moss, for Too Bee or Not to Be
TOP-BAR HIVES (SLEEP #1-2), July 2016-April 2017, Galleri F15, Moss, for Too Bee or Not to Be
OSLO AVIARY with OSLO APIARY, May 2016, Losæter, Oslo, for Futurefarmers (SF)
TRACING THE FJORD (performance), 7-9 Juni 2016, Henie Onstad Kunstsenter, a collab. w. Future Farmers (SF)
THE SHEPARD, Crop Circle performance for Futurefarmers (SF) "UP INTO THE SKY DOWN (IN)TO THE EARTH", 2016, Losæter
PEARL DIVING, Part 1, 10 May, 2016, Journal of Somaestethics, Vol. 2, Nos. 1 and 2
EAR TO THE WAX, 2016, 16-17 april 2016, Kunstnernes Hus, Oslo Open
GUTTERAL TRANSPLANTATION, 11 Sept 2015, Wergelandsveien 17, Oslo Kulturnatt
IF THESE WALLS COULD WALK, WHERE WOULD THEY STRAY, 21 Aug 2015, Losæter
NEIGHBORHOOD BATCH, 14 Aug 2015, Mølleren Sylvia
SANKE GULL, 13 Aug 2015, a collab. w. Andreas Ervik for (SANKE)
TRANSFORMER#5, June-Sept 2015, a collab. w. Vigdis Storsveen & ROM for kunst og Arkitektur
FOYER WORK, 08 Dec 2014, One Night Only Gallery, a collab. w. Victoria Günzler
DITCHFLOWER, 14 Nov 2013, Fuglen
OSLO APIARY Indiegogo crowdfunding promo, 10 Sept 2014, a collab. w. Anna Leijonhielm & Michael Behrens
OSLO APIARY Launchparty, 14 Nov 2013, a collab. w. Cappellens Forslag
HOW TO D.I.Y. with Bourgeois Stallion, 13 May, 2011, Malmøgata Fine-Art Project Space, Oslo
MISCELLANEOUS APPEARANCES
Featured performer at POETRY INSIDE THE MUSEUM, a part of FESTIVAL OF FUTURE NOWS, Hamburger Bahnhof, 15-17 Sept, 2017, Berlin, by invitation of Vinzenz Reinecke and Olafur Eliasson
Performer, Manos Tsangaris´winzig, 9-10 Sept, 2016, Ultimafestivalen, Oslo, by invitation of Ragna Solbergnes (Kuuk)
Featured poet, Paris Lit Up, Paris, 25 Feb 2016
Participants in SOILPROCESSION, 13 June 2015, for Futurefarmers (SF)
Actor, NEED MORE SPACE THAN TIME, Agi Golaszewska, 2015
Mead for Growlab Oslo´s POTETO HARVEST, 2 Oct 2014, Herligheten
Honey with bees, for Nicholas Riis´ DAD BROUGHT HOME A NEW GIRL, SHE CALLED ME ROBIN, 26 Sept 2014, Kazachenko´s Apartment
BOWL OF WATCHES, Nick Caves Museum of Important Shit, 2015
Featured poet, Spoken Word Istanbul, Istanbul, 30 oct 2013
SELECTED TALKS AND LECTURES
PEARL DIVING: SOMAESTHETICS AND ART, 14-16 July 2017, Xplore Festival, Berlin
HUMAN AS NOTE, 15 February, 2017, KHiO, Oslo.
TRACING THE FJORD (presentation), 21 January, 2017, Deichmanske Library, Oslo. By invitation of Concerned Artists Norway (CAN)
WALKING AND NATION BUILDING (TRACING THE FJORD presentation), 25 juni 2016, Oslo Flaneur Festival
DRIFT AS METHOD WITHIN ARTS AND ACADEMIA (TRACING THE FJORD presentation), 24 juni 2016, Oslo Flaneur Festival
IMMERSED OBSERVATION AS METHOD WITHIN ART AND ACADEMIA, 13 oct 2015, for SosGeo4301, MA level course in Human geography and sociology
TALK w. OSLO APIARY, 28 Juni 2014, Kunstnernes Hus

WRITINGS
(Article) Resistance is Plastic, for NORTHERN BUMBLINGS: MULTI-SPECIES LIVING IN THE COLD (In pres, 2018)
(Articles) Pearl Diving For the Fabled Artist, Journal of Somaestethics, Vol. 2, Nos. 1 and 2, 2016
(Texts) Dapper Dan Magazine (#8, 2013). flatbreadsociety.com (2013), Pengevirke (#3, 2013)
(Poetry) Splittet Kjerne (#5f, 2016), Belleville Park Pages (#5&10, 2013), The Bastille (#2&3, 2013&2014), RythmPatternTexture (#1, 2013), Milkandmoney Magazine (#7-8, 2010), 
(Lyrics) EPb (Bourgeois Stallion, 2011), EP (ibid, 2010), The Beauty single (ibid, 2010)
RESIDENCIES
Residency at Paris Lit Up, Paris (Feb 2016)
Poet in Residence, FlatbreadSociety, Oslo (2015-d.d.)
GRANTS AND AWARDS
Office of Contemporary Art 2017 – Travel grant
Nordic Culture Fund 2017 – Nordic collaboration grant
Kulturrådet 2016 Project grant – Visuell kunst
Kulturrådet 2015 Publishing grant – Visuell kunst
AHO – 1 price and monetary reward for student work designing equipment for Jølstad funeral parlor
Behancé honorable mention for label design 2014

CURATIONS
FULL MOON GATHERING (co-curated with Futurefarmers), Losæter, Oslo (2017-ongoing)
D.I.T. WITH OSLO APIARY, 11 Sept 2015, Wergelandsveien 17, a collab. w. Oslo Kulturnatt
MAGIC POTIONS (exhibition) Andreas Ervik, Gjestebrygge Rødtangen Bad (2011)
AFFILIATIONS
Billedkunstnerne Oslo og Akershus (BOA)
Norske Billedkunstnere (NBK)
Unge Kunstnernes Samfunn (UKS)