Geng, Jingxin
Paper cutting , drawing
I use repetition as a way to express myself. My paper collages and drawings often start out with a single form, whereupon this repeats and combines until it becomes something larger, making my works themselves appear organic.
Currently, I use the shape of triangles as the basic element. Each collage consists of three layers of white drawing paper with cut patterns. Light creates more detail in the work and gives it diversity in depth, level and space. You can meet me and talk about what I mean, at Oslo Open.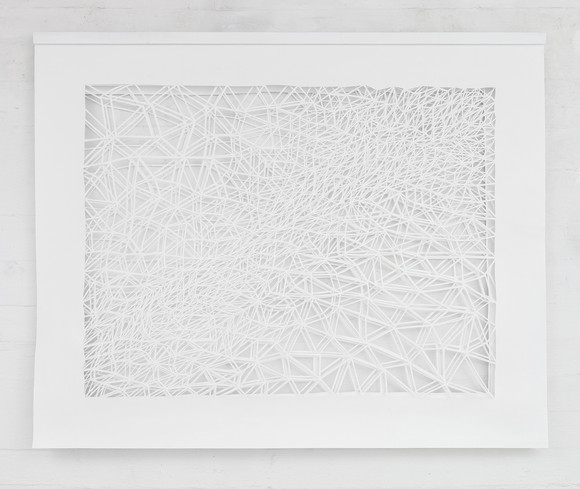 Jingxin Geng, The net of happiness, 150x120cm, papir cliping, 2017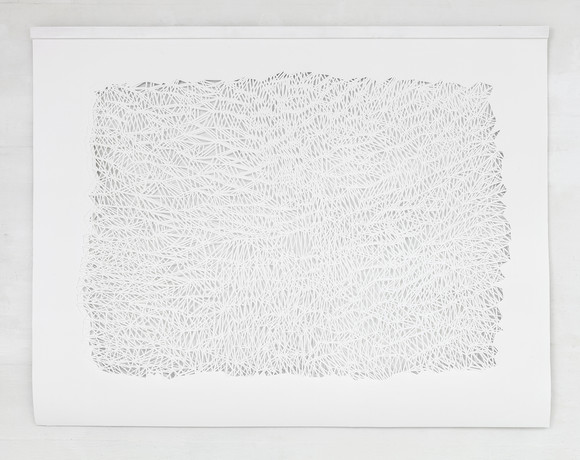 Jingxin Geng, Uncontrol, papir cliping, 150x120cm, 2013-2015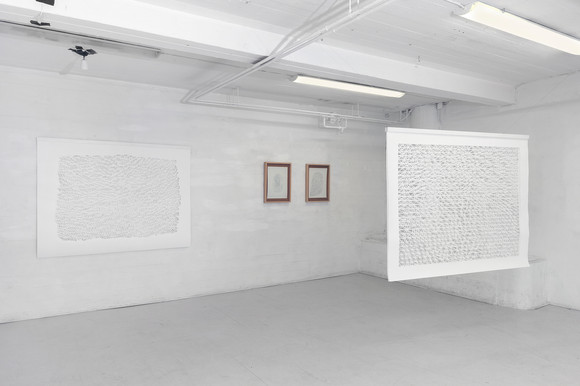 Jingxin Geng, Utstilling" From Triangle" i Oslo Prosjektrom i 2017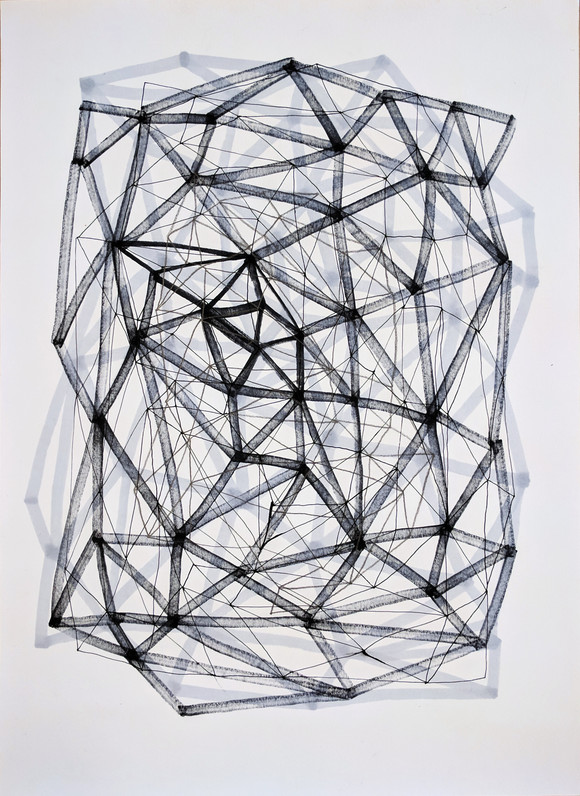 Jingxin Geng, The black, the grey, the thin and the thick, 29x46cm, drawing, 2017
Planned projects and exhibitions
Showing my own work, including drawing and paper cutting.
CV
Jingxin Geng
Born in 1975, China
Lives and works in Norway
website: jingxingeng.com
Emial:jingxin.geng@gmail.com
Education
2006 – 2008 National Art Academy in Oslo – M. A Fine Arts
2003 – 2006 National Art Academy in Oslo – B. A Fine Arts
1998 – 2000 Central Academy of Fine Arts in Beijing
1995 – 1997 The Central University of Nationalities'
Member of: NBK, BOA, Sørumkunstforening
Grants
2013 Bildende Kunstneres Vederlagsfond for one year, Norway
2012 Statens Ustillingsstipend, Norske Kulturråd, Norway
2008 Norske Kunstnerstipend, Norway
2008 Bildende Kunstneres Hjelpefond, Norway
2006 Norske Kunstnerstipend, Norway
Other Related Experiences
2015- Artistic Consultant for Art decrating fo New Frogner Skole i Sørum
2013 – 2014, Board memeber in Sørumkunstforening
2013 Artist talk i Årnes Kunstforening, Norway
2011 Ocotober- December, Assistant in Galleri BOA
2009 – 2010, Board member for Association International Sinoccygen, work as
Agent/Represetitive of AISOCA i Beijing
2005 Curator of group exhibition Link-Up i 798 art area, Beijing, Kina
Solo Exhibitions and two person's shows
2017 From Triangle, Oslo prosjektrom, Norway
2013 State of Inaction, Tegnerforbundet, Norway
2013 Matrix of Entities, Gallery BOA, Norway
2012 One and More, Galleriet Nes Kulturhus, Norway
2011 Two man show, The Fairy Fingers, AISOCA, France
2005 Communication 20 × 1, Gallery Arena, Norway
2004 Who am I , Gallery 21:24, Norway
2004 Flow , Long Space Gallery, Norway
Selected Group Exhibitions and Jury Shows
2018 Group Show, Gwangju Museum of Art, Korea
2018 Group show, Lørenskog Kunstforenning, Norway
2018 Oslo open, Schæffersgata 5, Norway
2017 The spirit of independence, NL Art Museum, Beijing China
2017 Paper . Supreme, Exhibiting in Shanghai, Beijing and five other Cities in China
2017 MONA Biennial (The Museum of Non-Visible Art)
2017 Migrating Identities 2, Galleri 69, Norway
2016 Migrating Identities 1, Lørenskog Kunstforening, Norway
2015 Galleri Blaker Skanse, åpningsutstilling, KunstSkansen, Norway
2015 Mail Art, Oppland Kunstsenter, Norway
2013 Min Stemme, Galleri Schæffersgate 5, Oslo, Norway
2013 The Unbearable Richness of Gray, NOsphere, New York
2011 Mult faces – Chinese contemporary painting – InterfaceFLOR Showroom, France
2011 China-Europe paper art show , Beijing- Paris
2010 Salon du dessin et de la peinture à l'eau , Grand Palais in Paris, France
2010 No Difference- Da Wang Gao Di Art Center, Shenzhen, China
2009 China-France Art Exhibition, Strasbourg, France
2009 Life in Songzhuang, Songzhuang Art Museum, Beijing, China
2008 Reconfigure – in association withTannery Arts, The Drawing Room, London, Uk
2007 One minute film festival, Switzerland
2007 Vår utstilling, Tegnerforbundet, Oslo, Norway
2007 Southern Comfort , Gallery 21:24, 21:25, Oslo, Norway
2007 Norway in world , Gallery BOA, Oslo, Norway
2006 Painting group show, Gallery A, Oslo, Norway
2006 Survival, Gallery seildukken, Oslo, Norway
2006 B.A Avgangsutstillingen, Stenersensmuseum, Oslo,Norway
2005 Link-up, 798 Art Biannual, 798 art area , Beijing, China
2005 International Drawing Exhibition, StrayDog, Aberdeen, Scotland
2004 Group exhibition, Gallery Seilduken, Oslo, Norway